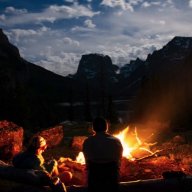 Joined

May 3, 2018
Messages

290
Sorry no Video trip report this time (only feel comfortable doing it around Lacey, haha!)
My friend and I headed out (my bachelor party, or just another excuse to go camping). The original intent was to go down the just opened Obstruction Point Road which branches off of Hurricane Ridge in Olympic national park and camp near Elk Mountain. We arrived at the TH at 11pm cloudy / foggy but not windy. So we set up camp in the parking lot and sleep.
The next morning the wind cracked hard and broke two tent poles somehow! It was so windy we had trouble breathing (they don't call it Hurricane Ridge for nothing I guess). So now shelter-less in the high country we decided to call an audible and head for the coast.
I'm familiar with almost all of the coastline here as I mainly hike there during the winter because no snow so I picked my favorite spot (Sandy Point, Ozette Backcountry) and thats where we camped. Luckily I had rope and some tarps in my car for some tarp camping a long the coastline. 3.5 Miles in 3.5 miles out very very very minimal elevation gain/loss. Super relaxing and amazing stargazing.
Half way back down Obstruction Point Rd. Leaving for the coast.
It was considerably less windy at the Hurricane Ridge visitor center but we didn't feel like wanting to wait out the weather in the high country so we just headed to Sandy Point.
3.5 miles from the TH later we are at Sandy Point!
Our tarp camp. RIP tent.
Amazing stargazing.