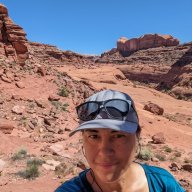 Joined

Jan 11, 2018
Messages

796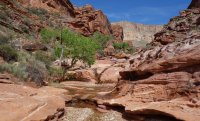 Yet once again snow blocked access to Bill Hall trailhead, so I had to find a plan B. On the way in I had passed a sign for Kanab Creek Wilderness, so I decided to check it out. The roads to the Jumpup Canyon trailhead were in surprisingly good condition given the horror stories of flat tires I had read about accessing places like Monument Point. I arrived at the cabin the night prior, only to find the small parking lot filled with cars and tents. Fortunately there was a quiet, flat place to camp not far up the road.
In the morning I chatted with the group that had camped at the trailhead about my hike options, as well as my upcoming plans for a Dirty Devil trip. One of them, who turned out to be Bert Fingerhut, mentioned that he had written to prologue to one of the Allen Canyoneering books. I considered driving to Indian Hollow to do a variation on my original plan, but Bert suggested that I explore Jumpup and neighboring canyons instead. Another person recommended continuing in Jumpup Canyon if I liked scambling. I decided to take their advice.
Logistics
Start/end:
Ranger trail #41 trailhead/Jumpup Cabin
Mileage: ~17 miles
Elevation gain: ?


Difficulty: class 3 (a few spots)


Navigation: Map useful since some of the trails/junctions aren't marked. Limited cairns
Filterable water: a few springs, including Jumpup; rest seasonal
Designation: Kanab Creek Wilderness
Fees: none
Nearest town/gas: Fredonia, AZ
Date hiked: 14 Apr 2019
Approximate Route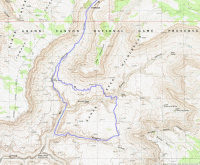 Trip Report
The trail soon passed a spring, after which the canyon opened up into a wide wash filled with gravel. The walking was easy, but tedious. At ~4 miles the official trail branched onto the Esplanade, but as suggested I stayed in Jumpup for more technically interesting terrain.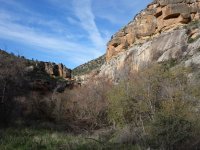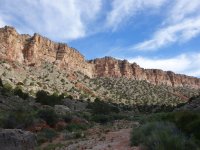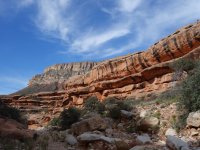 The canyon began to narrow and the scenery improved. There was a little exposure on ledges to bypass pour-offs and climb down a ladder constructed of logs and climbing webbing/cord.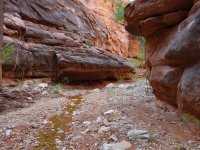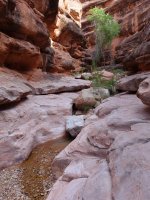 The canyon, now reminiscent of the best parts of Fish/Owl Canyons on Cedar Mesa, descended down slickrock ledges filled with hanging gardens, frogs, and flowers.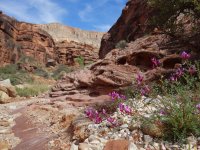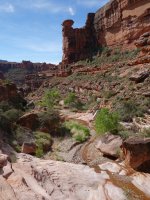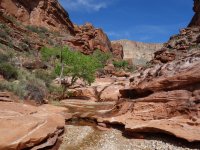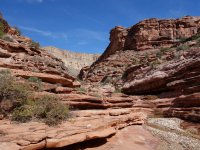 I consulted the map and decided to head up Kwagunt, then loop back on the esplanade via Ranger trail through Sowats and back to Jumpup. Kwagunt was equally lovely. I didn't have any information, so wasn't 100% sure it would go. Fortunately, there were bypass trails around any pour-offs.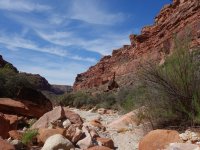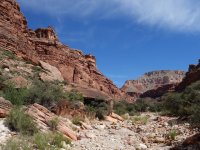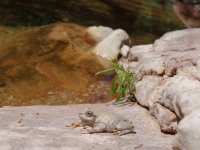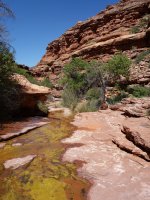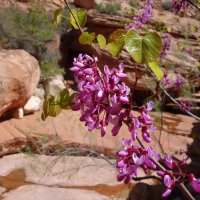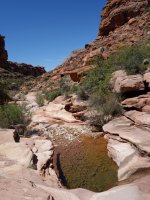 Near the head of Kwagunt, the esplanade came into view, with small towers and twisting gullies framed by towering striped mesas. I carefully wove my way on solid surfaces to reach Ranger trail.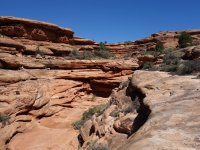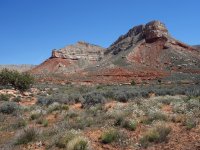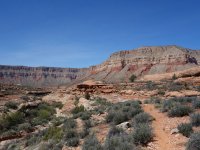 Above Sowats Canyon I ran into the group from the trailhead. They asked where I had gone, and the water situation since they were headed down Kwagunt. The trail in and out of Sowats was surprisingly well-maintained (much more so that some Grand Canyon NP trails) with stone steps.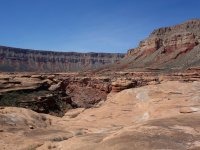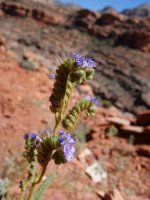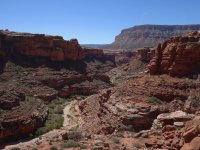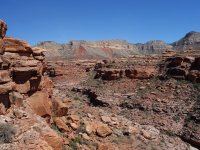 The sweeping views continued along the esplanade trail. I dropped back into Jumpup Canyon. The warm temps made the 4 mile gravel slog feel longer, but I finally reached the spring for a quick drink of cool water before making the short final hike back to my car.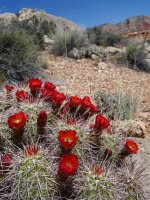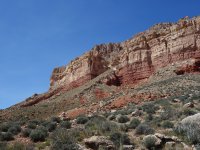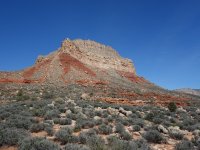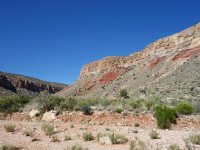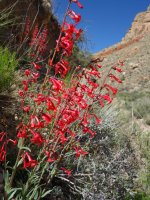 Last edited: