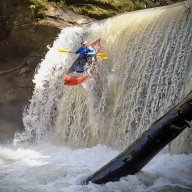 Joined

May 3, 2013
Messages

556
The Joyce Kilmer-Slickrock Wilderness in western North Carolina is by far my favorite backcountry escape in the southeast. The views from up high on the Hangover rival anything in the southern Appalachians, and Slickrock Creek's waterfalls are beautiful.
The largest stand of old growth trees left in the east are found here in the Joyce Kilmer Memorial Forest, and the entire Little Santeetlah watershed has never seen a loggers saw.
This is a hard to reach place, or at least the good stuff is tough to get to. You have to earn it here, the trails are STEEP. The highest elevation is a little over a mile high near on Bob Bald.
This was my seventh trip here, and I was thrilled to be able to bring my wife and show her around this amazing wilderness. We basecamped for three nights near arguably the best view in the southeat on the Hangover. After an epic 14 mile dayhike, lots of rain, a full day spent in the clouds and a night below freezing we still weren't ready to leave.
Our knees were though.
Sunset from the Hangover, approximately 5,200'
Sunrise from the Hangover
Plenty of wildflowers. Flame azaleas...
Trillium
Trillium
Lady Slipper
Mountain Laurel
After 12 hours of rain, the clouds stuck around all day. It was surreal.
The next day...
Cloud camp cribbage
Slickrock Creek trail is one of the toughest in the southeast. Rarely maintained and ridiculously steep until you reach the creek.
Finally reached the top after our epic day hike down, then back UP...and UP...
A favorite of mine, this campsite is one of the best around
Jenkins Meadow
Lower Wildcat Falls