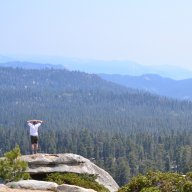 Joined

Jul 22, 2016
Messages

67
This was a three day camping trip to Joshua Tree National Park from January 9th - 11th, 2017. My younger brother is planning on joining my girlfriend and I on some of our camping and backpacking trips this spring/summer and with such little camping experience I thought it would be good to ease him into the camping life with this short trip. So my brother, my girlfriend and I set out to enjoy some desert scenery. It was a bit windy but overall it was a good way to start the new year.
Day 1
When we got into the park we set out for Hidden Valley to look for a campsite, unfortunately that campground is very popular with climbers and was full. We ended up settling for a nice little spot in the Ryan campground. Once camp was set up we set out for some bouldering and exploring of the old Ryan homestead just east of the campground.
Whats left of one of the Ryan home structures.
View from inside
Ariel view from a nearby boulder.
View towards camp
Day 2
After breakfast we set out from to the Boy Scout Trailhead from which we would head into Willow Hole, an oasis in the wonderland of rocks area.
Joshua Tree at sunrise
Snowy mountains from the trail
Part of what is referred to as the Wonderland of Rocks
Pool of water nearing Willow Hole
After the hike we headed to Baker Dam to explore the area for some pictographs but were unsuccessful in finding any signs of habitation. NPS does a good job of hiding them apparently. Not sure what happened to the pictures I took of the area though.... mysteriously vanished.
Day 3
We ate breakfast and packed up camp before heading out to the Wall Street Mine and surrounding area. Unsure of what we would find out there we just look off down some wash and it ended up being pretty awesome. There was a great mixture of scenery, remnants of mining and mineral exploration as well as Native American habitation in the numerous rock outcropping.
Approaching an old homestead
Not sure what this stamp on the tile means but it was pretty cool
Windmill that was the site of the Desert Queen Well
All in all it was a fun trip but three days is not nearly enough time (those damn obligations are always holding us back). There is so much to see and do in Joshua Tree but like any National Park, the masses of people that clog up the road ways and pull-outs make it somewhat of an off-putting experience. However, once you look at the map and wander off-trail you are rewarded with the solitude and beauty that a lot of us seek in the desert.