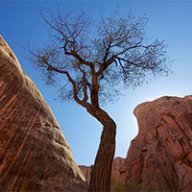 Joined

Aug 9, 2007
Messages

12,939
An old trip report that I am moving over from my blog before I shut it down for good. Another half dozen or so like this coming soon. Sorry to clutter the place up with these old ones, but I don't want to lose them.
----
March 2009
This is just a short day hike from the Bonneville Shoreline Trail near the mouth of Parley's canyon. I had just bought a new camera and ultra wide lens so I wanted to get out and give it a try. I didn't know that we were hiking up anything noteworthy until we got to the top where we would all be humbled.

The dogs loving the snow.

Nate and I taking a break on the ridge. The views of the Salt Lake valley are awesome.
On top of Jack's Mountain there is a memorial and two mailboxes. In 1995, a young boy named Jack Edwards died of Leukemia and his parents placed the memorial here at the mountain where they spread his ashes. You can read more about it in this Salt Lake Tribune article
From the SL Tribune article:
Jack Edwards was just a toddler when he died of leukemia in 1995. His parents scattered his ashes from a peak above Salt Lake City, where they later placed a memorial. Two mailboxes mark the site, with a notebook that begins with a letter from Jack?s mother: "Please take a moment to say hello to Jackie Jack and write a little (or long) note." The mailboxes now contain several journals filled with personal and poignant entries by visitors from the past 13 years.
Taking a look at the notes, hard stuff to read.

Looking off the other side of Jack's Peak
After taking a few minutes at the memorial we went to the other side of the mountain and sat for a bit.
Hiking back down into the haze.