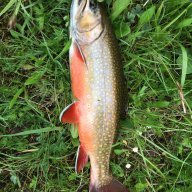 Joined

Oct 21, 2014
Messages

32
Once again the ground is starting to thaw here in Utah and the local scouts are itching to go burn some energy. This is the time of the year that we begin planning what we will be doing for our big summer week long activity. Last year I took the boys white water rafting on the Snake River in Wyoming but this year I am thinking that we need to do a 50 miller in the Uinta's. I am curious if there are any other leaders of youth groups or parents of teenagers that are planning to take their young people out into the wilderness and pass on a love for the outdoors. What are your plans? Where are you going? Do you have any advice that might be helpful from another trip? Any ideas for outfitting a bunch of kids?
Our Troop is going to be leaving from the highline trailhead just north of Mirror Lake in the Uinta's. Our first stop will be Pinto Lake about 8 miles from the TH. Here we will be setting up a "Base Camp". Day 2 will consist of a loop from Pinto Lake, Past Pine Island and over to Granddaddy then back past Lost Lake and home to Pinto Lake. I have figured this loop to be about 12 miles. Day 3 will consist of a make shift loop from Pinto Lake to Allen Lake. There is no trail to Allen Lake but I really want to catch a Grayling this year and I have read that Allen is the place to do it. About 1.5 miles of bushwhacking past Allen up to 4 lakes basin shouldn't be too bad. While up there we will visit Jean and Dean Lakes and return to Pinto Lake via the trail. I have figured this day to be about 11 miles. Day 4 we will move camp over to Naturalist Basin and stay at Morat Lake or Jordan Lake. We are a little undecided at this point. Has anyone been there or have an option on the matter? That will be a 6 to 7 mile hike that I think we can complete by early afternoon and still have time to do a 5 mile loop around Naturalist Basin. Day 5 we will pack up and head back to the trail head. Of course no scout trip to the Uinta's would be complete without stopping at Dicks for a shake.
I would love to hear from you all on your plans and places that would be fun for a younger generation.