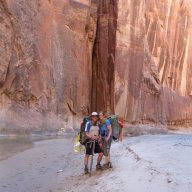 Joined

Dec 5, 2017
Messages

475
As requested (
@John Morrow
), here's a TR from our July 2015 backpacking trip on Michigan's Isle Royale. After 5 years, it's fun to revisit my photos & maps and try to remember the details of our trip. Isle Royale is a huge island in Lake Superior and is closer to Canada and Minnesota than Michigan. Fans of this rugged, remote wilderness love to boast that it's one of the least visited but most revisited national parks. You can only get there by boat or seaplane. Since boats make me nauseous and I didn't want to start out feeling sick, the "barf boat" from Copper Harbor was unappealing. Instead, we splurged on the seaplane from Hancock. It was fun! You have to reserve in advance and hope that bad weather doesn't delay your travel. We flew into Rock Harbor on Day 1, hiked across the island from east to west, and flew out of Windigo on Day 6. A lot of people do loops from one end of the island or the other, and I've talked to people who loved those trips. But we preferred to traverse the island and therefore hiked along the Greenstone and then Minong Ridges. Here are some notes and photos.
Day 1 - We met the pilot at the small airport in Hancock on the Keweenau Peninsula and flew into to Rock Harbor. Landing was a lot of fun!
After going to the Visitor Center and getting our permits, we took a water taxi (reserved in advance) to Tobin Harbor. We hiked up to Lookout Louise and then hiked west on the Greenstone Ridge. It was pretty late by the time we got started that afternoon, so we didn't hike for long before figuring out a spot we could camp dispersed along the Greenstone.
This part of the Greenstone Ridge Trail was not heavily trafficked and was quite overgrown!
Day 2 - We continued west along the Greenstone Ridge Trail. At Chickenbone Lake (that's really the name) we headed toward McCargoe Cove, where we camped for the night. Someone on their motor boat pulled up while we were there and offered snacks and clean water. A camper with another group was enjoying the water until the leeches found him. We got out of the water quickly! We enjoyed one of many beautiful sunsets that evening.
Day 3 - We headed along the Minong Ridge Trail and enjoyed checking out this old mine from the late 1800s.
We had lots of lovely views of Lake Superior and inland lakes. We enjoyed seeing an island in the largest lake in the largest island in the largest lake (if you consider Superior the largest Great Lake rather than Michigan-Huron).
We kept going past Todd Harbor and camped at Little Todd Harbor at beautiful campsite #4 right next to Lake Superior. Some of the people from our group enjoyed swimming and bathing in Lake Superior, but it was way too cold for me. We were delighted that a storm way out on the lake didn't reach us.
Sunset was spectacular!
Day 4 - There are moose on Isle Royale! We had seen evidence of them on earlier days (a big area of flattened grass, big pile of scat, etc.) and occasionally the person from our group who happened to be at the front of the line got to see one's backside running off through the woods to get away from us. But on this morning, as the trail went next to this pond, we were treated to a great view of this moose who was much more interested in having breakfast. Note: There have been wolves on Isle Royale that traveled to and from via ice bridges, but their population declined drastically and we didn't see any; in recent years, after much study and discussion, efforts have been made to reintroduce wolves to the island.
o
View of Thunder Bay and Canada from the Minong Ridge
Lake Desor
Our campsite (one of 3) at North Lake Desor
Day 5 - We continued along Minong Ridge, which goes up & down over and over again - due to earthquake faults and geologic activity from long, long ago that we learned about at Windigo's Visitor Center when we finished.
Sunset at Windigo was spectacular that evening!
Day 6 - the seaplane flew in to the harbor, picked us up, and we headed back to the mainland. We were sad to reenter civilization. We had lucked out with great weather, tons of gorgeous wildflowers, and not too many mosquitoes. Wonderful trip!
If you're interested, there's lots of free trail and camping info on the NPS and other websites. We got the most helpful info from this guy's online store:
http://isleroyale.info/
He has super detailed descriptions that we found really worthwhile!