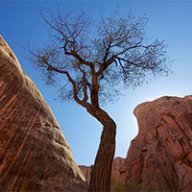 Joined

Aug 9, 2007
Messages

12,939
August 2011
It seems like Priord Lake will elude me this year, at least for the month of August. Once again I planned a 3-day trip up there and once again complications stopped me. On last weekend's trip to Kermsuh Lake I came down with a really nasty summer cold that held on through the week. By Friday I was still coughing up a storm and at half lung capacity (at best) so I had to switch it up to something a little shorter. I would normally try to avoid this area until after Labor Day because of the crowds but it was the best option from my bucket list.
The Long Lake Loop is a lolli-loop route that starts at the Crystal Lake Trailhead, passes by Long Lake and then loops around past Duck, Pot, Weir and Marjorie Lakes before meeting back up with the main trail for the last mile and a half back to Crystal Lake. We did that route with an extension to Island Lake where we spent Saturday night.
Here's a map of the route. Including the hike to our site on the east side of Island Lake, my GPS logged 9.04 miles. 4.19 of that was the first day from Crystal Lake to Island (probably less than 4 to the south shore). The other 4.85 was from our campsite at Island Lake back to Crystal Lake via Duck-Weir-Pot.
View larger map.
One of the great aspects of getting out so often is doing it with different people. For this trip I was joined by Taylor and Adam. Two friends that haven't been out much lately. Taylor was also using this as the kick start for an epic backpacking & bikepacking trip over the next week. Yes, bikepacking. He has a trailer that he pulls behind his bicycle. After our one night trip he was going to do two more nights in the Uintas and then ride that bike with all his gear all the way to Logan via Evanston and Bear Lake. Hardcore. Hiking is one thing but pedaling up mountain passes with 80-90 pounds of gear? No thanks.
We arrived at the Crystal Lake Trailhead around 9:45am to a packed lot. Cars parked everywhere they shouldn't be, even alongside the road all the way down past where it turns to pavement. They really need to do something with that trailhead. I knew that it would be at best half full when we came back on Sunday so I didn't want to park like a jackass and risk the ticket. It took us about 15 minutes of waiting before we caught someone leaving and were able to snag a proper parking spot.
The trail starts out with a good climb up to the top of a low pass between Mount Watson and Haystack Mountain before descending to Long Lake. The flow of boy scouts coming out was insane. We probably passed 50 of them. Amazing how much busier a Friday night is compared to a Saturday up there. Welcome to Utah. With all the traffic coming out, I expected Long Lake to be a mad house but it was actually pretty mellow. There were a few people here and there but its such a large lake that you barely notice. I was surprised at how open the shoreline was. I kind of assumed that Long would be a heavily forested lake.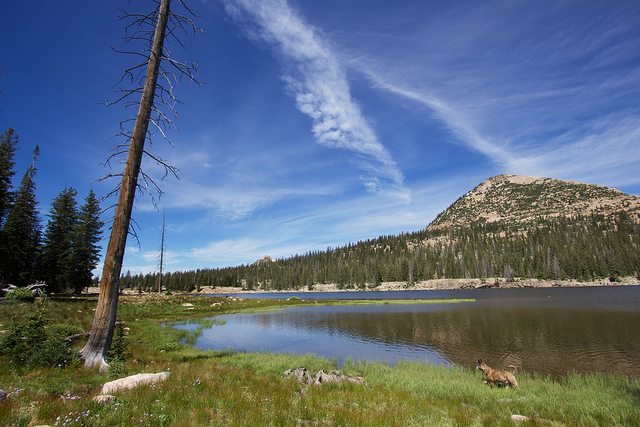 The south end of the lake is almost all rock with striations from ancient glaciers all over the place.
We stopped on the other side of the dam to have lunch and do some fishing. I caught this unusually fat brookie. I've never seen such an odd-shaped trout in my life. It looked like it had swallowed something half its size.
A wide angle vertorama of Long Lake from just below the dam.
A tiny lake along the way to Island. According to Google Terrain View this lake is called Cutthroat but the USGS maps show no name.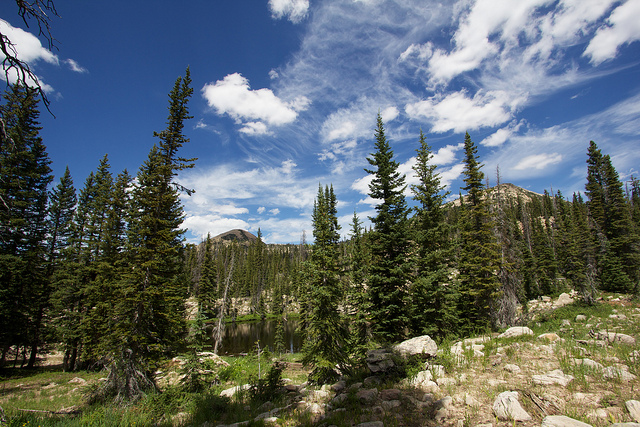 Nikita checking for fish. She didn't find enough to keep her interested on this trip.
After a bit of a climb we found ourselves at Island Lake and decided we would make it our home for the night. We were considering going on to Fire Lake but Island was very pretty and there weren't very many people around. After setting up camp we went down to a nice rock outcropping and fished away the afternoon. I hooked into a nice Cutthroat right away but then it slowed down. There were fish flying a foot out of the water here and there but they weren't coming after anything we had to offer. So naturally we went swimming.
I had to swim out quite a ways before getting to a spot I could no longer touch the ground.
After we got home a facebook friend had posted a trip report with a video of them jumping off one of the big cliffs on the other side of the lake. We had missed them by one night. I'm kicking myself for not going over there and checking it out. We even talked about how it looked perfect for jumping but that the water was probably too shallow. Now I have to hike back out there to huck that cliff.
It clouded up a bit after the swim and I pulled out another Cutthroat on a renegade.
Nikita keeping an eye on potential intruders. There were 2 or 3 other groups camped around the lake but no one ever came very close to our end.
Sunset as the lake boils with fish rising.
The sunset was setting up to be a stunner but the light pinched off towards the end and this was as good as it got.
Taylor demostrating his gutting technique.
I was excited to try some cloud blur shots with the full moon out but the partly cloudy sky went full overcast after dark. This is one of the only shots I took after dark, taken a little after midnight. The clouds had thinned a bit letting some of the moonlight out.
The little sprinkles we had during the evening picked up after we went to bed and continued throughout the night. We woke up to a very wet camp. Fortunately the rain stopped just before we crawled out of bed and an hour or two later the sun was out drying our tents. On the way out we followed the other side of the Long Lake Loop past Duck Lake, Pot Lake and Weir Lake. Amazing how there were practically no people out compared to the hordes we saw coming in.
Weir Lake
Here's an interesting comparison of the same spot, the first photo taken on this trip, the second photo taken on a trip I went on to
Duck Lake last October.
August, 2011
October, 2010
A little while after passing Weir Lake, the trail meets back up to complete the loop portion of the hike before continuing up and over the low pass and back down to Crystal Lake trailhead. This was a nice route that passes by a handful of pretty lakes. It gets a little crazy around there in the peak of summer, especially on Friday nights and Saturdays with the scouts out but it's still a quite nice. It would be much better on a weekday or as an early/late season trip.