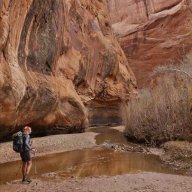 Joined

Jan 4, 2015
Messages

2,755
Hey all, planning a long-distance backpacking loop that would follow White Canyon between Bridges and the Black Hole. There's plenty of technical information on the nearby slots, but I can't find anything on whether the main stem of White Canyon is walkable or not. I'm not looking to do anything technical on this trip and wouldn't be bringing a drysuit or other swimming gear.
In surveying the available resources, the only potential beta I can find is:
A "pool" per Kelsey below Gravel Crossing (MP 64). He doesn't elaborate at all on this.
American Southwest says it may have "long pools in many other places, as the canyon channels a great amount of water after rainfall" but doesn't really explain where or how deep.
Anyone have intel on whether White Canyon is walkable above the Black Hole?