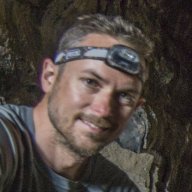 Joined

Jun 18, 2015
Messages

102
Introduction to the Mojave-Sonoran Trail: A NEW 625-mile cross-country winter thru-hiking route from southern Nevada to southern Arizona, along the Colorado River corridor
Valley of Fire, Nevada​
Where:
Nevada, California, Arizona
When
: November 3rd 2021 – December 18th 2021 (46 days, 9 zero days)
Distance:
625 miles
Lighterpack:
https://lighterpack.com/r/4aj6eq
Website, Route Info & Guide, Map & GPX, Trail Journals, Photos:
https://seekinglost.com/thru-hikes/mojave-sonoran-trail-thru-hiking-route/
Video Series:
https://www.youtube.com/playlist?list=PL8GyPZecZZYg3SVoYBPhzYopgj_zRQG1O
- 9 part series totaling 10 hours. Episode 1 just released
Overview:
Until recently, thru hikers seeking a long trail or route that could be hiked in the winter months
and
feature warm weather/no snow had few options. Over the last few years, Brett Tucker has been developing the Desert Winter Thru Hiking route to fill that void. And the WTH looks like an excellent route that I myself am looking forward to walking someday in the near future. The Mojave-Sonoran Trail is my attempt at the same concept; a warm-weather winter thru hiking route in the desert southwest.
The route begins (for southbound hikers) at Valley of Fire State Park in southern Nevada and ends in the Kofa Wilderness in southern Arizona. The route generally follows the Colorado River corridor, transitioning from Mojave Desert to Sonoran Desert along the way. The MST can be hiked from Nov-Mar, a time many thru-hikers consider the "off season". It doesn't have to be!
Today, I am ready to share with you a guide on the "Mojave-Sonoran Trail". The guide will provide potential MST hikers with the basic information they need to hike this route including resupply logistics, an interactive map of the MST route and GPX file, water sources with notes, detailed trail journals with photos, a 9-part video documentary series with a 10-hour runtime, basic gear recommendations and more.
A Few Route Facts:
The route traverses 12 mountains ranges and 12 wilderness areas. The route also traverses almost the entire length of Lake Mead National Recreation area (about 275 miles). The highest point is Spirit Mountain, Nevada (5642') and the lowest point is Parker Dam, AZ/CA border (392'). The route crosses the Colorado River 3 times; once by walking the Davis Dam, one by hitching across the Parker Dam, and once via $2 ferry ride across Lake Mojave.
Type of Hiking:
The Mojave-Sonoran Trail is a cross country route, not an actual hiking trail. Only about 16 miles of my route was on a hiking trail that is shown on a map. The rest was cross country, old two track roads and less frequently, larger dirt roads. Paved road walks were. Roughly 40% of the route is cross country (still need to calculate exact numbers). This is a desert route, with elevations ranging from 300-5,600ft. While the emphasis on ridge walks, high routes and peak bagging is always high, this route is also heavily geared towards exploring scenic canyons. In both the Mojave and Sonoran deserts, spectacular deep and colorful canyons are plentiful, and are a main draw to this route. Dry waterfalls are extremely common, and there are perhaps hundreds to negotiate along the way of varying difficulty. No technical gear is needed, although a length of cord to lower your pack when down climbing is highly recommended.
Pace/Time On Trail:
Allow 5-7 weeks to complete the MST. Because much of the route is off trail (with more frequent climbing/scrambling), miles can be very slow at times. There is limited daylight during the late fall and winter months, which cut into the time a hiker has to cover miles. I averaged 18 MPD, but I also spend about an hour a day filming and taking photos, recording waypoints, documenting water sources, exploring old mines etc. Strong hikers with solid cross-country experience should be able to get 20 MPD or more. Be prepared to be humbled by the occasional 12-mile day, though. I completed the route in 7 weeks, with 9 zero days. 6 weeks would be a good time frame for many hikers to shoot for with a couple of zeros, and strong hikers will probably finish in about 5 weeks.
Weather/Seasonality:
This route is best hiked between November and March. I started Nov 3rd during an unseasonably warm fall, and saw temps in the upper 80s when Is started. This quickly faded to 70s and then 60s. The weather was excellent for the majority of the fall for my preference, warm nights (almost never below low 40s) and bluebird skies almost every day. The weather only started to turn during my final week in mid-December. Here I saw one night of 22 degrees, and more in the low 30s. It sprinkled a couple of times, but never anything really substantial. High winds are a big thing along the Colorado River corridor, especially near Lake Havasu. Hikers seeking cooler weather might consider a Jan-Feb hike, where there's mild daytime temps and colder nights.
Resupply:
I broke the route up into 9 sections. Distance in between towns is 104 miles or less. Resupply is a little challenging over the first 160 miles, but pretty easy after that. I tried to walk into towns whenever possible. There are two hitches, 4 and 14 miles. Another resupply might be a hitch, or you could try and cache food there ahead of time. I have a spreadsheet illustrating my resupply plans in the guide on my site.
Water:
This is a dry route. Water can generally be acquired once a day. The biggest carries span two days. Caching ahead of time reduces water carries to only one day. Although the route follows the Colorado River, it's usually not close enough to be used as a water source. My biggest carry was 8L. Future hikers can cache and reduce this one. Longest waterless stretch? I went 50 miles on 5L of water over 2.5 days (section 5, south of Searchlight). Future hikers can cache at Christmas Tree Pass to reduce this, as well as possibly extracting water from guzzlers along the way. The small game guzzlers in southern Nevada are much more of a gamble than the big game guzzlers throughout the rest of the state. The guzzlers in Arizona were more reliable, and had more water that was much easier to access. This route is much drier than anything else I've hiked, but experienced hikers who put some thought into their water plan will not have an issue.
Highlights of the MST:
For me, highlights of the Mojave-Sonoran Trail would be Valley of Fire, Jimbilnan Wilderness, Spirit Mountain, Mount Nutt Wilderness, Havasu Wilderness, New Water Mountains and Kofa Mountains.
Final Ramblings About the Route:
I spend many hundreds of hours a year mapping routes like this one. I truly love mapping, almost as much as actually hiking these routes. Something about creating your own path… to me, it's the ultimate expression of outdoor adventure and the true definition of freedom, only limited by your dreams. I understand most people probably aren't interested in spending hundreds of hours doing this kind of research and planning. I also feel like it would be a bit of a waste to spend so much time on a route like this, for only myself to enjoy. So, I'm sharing the route, so others can experience this amazing adventure too. I really believe in this route, and I'm excited to pass it on to the community. Enjoy and happy hiking!
Now for some eye candy...
Jimbilnan Wilderness, Black Mountains, Lake Mead National Recreation Area
Petroglyphs in southern Nevada
Fire Wave at Valley of Fire State Park
At the Eagle's Eye, New Water Mountains, Arizona
Summit view from Spirit Mountain, 5639', high point of the Mojave-Sonoran Trail route
Slot canyon action in southern Nevada
Hiking the Eldorado Wilderness, Nevada
Spirit Mountain, Newberry Range, Nevada
Mount Nutt Wilderness, Arizona
Cowboy camping underneath an overhang on the crest of the Kofa Mountains, Arizona
Tons of fun pour offs to climb
This place is a "secret"... that's your hint! Mount Nutt Wilderness, Arizona
Hiking the Needles, Havasu Wilderness, Arizona
Cowboy camping in the Kofa Wilderness, Day 46, last night on trail
Last edited: