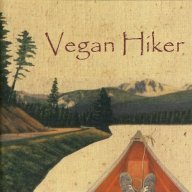 Joined

Jul 5, 2014
Messages

2,090
Does anyone use Superfeet insoles? Particularly the Copper DMP model?

I had to get a new pair of hiking boots, which I hate doing mid-season, but my Merrell's finally fell apart during my last trip. I loved the Merrell's and never needed aftermarket insoles for them but the updated version of that boot is no longer vegan forcing me to switch to a Northface boot.

I wanted to test the boots out before leaving for Utah this Friday so I took the new boots on a 12 mile test hike on Sunday. They felt great overall but I developed a hot spot (early stage blister) on one heel. I thought a better quality insole might help and went to a running store in my town that came highly recommended by a friend (albeit a runner not hiker). The salesperson said she would ordinarily recommend the Superfeet Orange for strenuous hiking but since my issue was foot movement (blister) rather than needing more shock absorption, she recommended the Copper DMP (this model molds to your foot). She took my arch size into consideration as well. After purchasing them, I've seen some mixed info on the Copper online. The Superfeet website recommends the Copper for "light" hiking whereas the green and orange are recommended for more strenuous hiking. However, I saw a review of the Copper on a hiking blog that compared the Copper to the Green and strongly felt the Copper had more shock absorption. Also confusing is that the Superfeet site claims that the Copper are high profile and the REI site says the Copper are low profile. I'll be wearing the Copper insoles every day in whatever shoes I'm wearing in hopes of breaking them in before Friday but I'm a little nervous now about the shock absorption.

Does anyone use the Copper for anything more than "light" hiking?