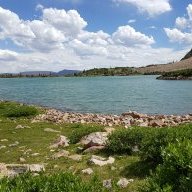 Joined

Aug 8, 2016
Messages

2,066
This summer I've been drawn to explore the Blacks Fork River drainage in the Uinta Mountains. Having been up Middle Fork and West Fork of the Blacks Fork on previous trips it was time to head east to East Fork Blacks Fork. Being limited somewhat to day hikes I was jonesin' for a classic Uinta vista. Checking out the maps it looked like taking the Little East Fork might just do the trick. According to my calculations it would be some where around a 19-20 mile round trip. Having done 23.4 miles to Dead Horse Lake this seemed like a doable thing so got an early start from home.
Here's a video of the day's adventures if you would like to come along.
I arrived at the trail head, signed the register and was on my way down the trail at just about 6:15 am. Yay! I was getting a nice early start.
The trail immediately begins with a bridge crossing of the East Fork Blacks Fork River and heads south along side.
Quickly you come upon the Bald Mountain trail junction. This trail takes you up and over Bald Mountain (not the Bald Mountain along Mirror Lake Highway but the *other* Bald Mountain) and over to the Smiths Fork drainage just below the Red Castle area. I'd like to try that one of these days.
Continuing on something was nagging at me that I had forgotten something. Did I forget to pack my food for the day? Did I forget my map? I stopped ready to look through my back pack when it dawned on me.... I had forgotten to lock my truck! Grrrrr! I was in half a mile and decided I better go back and secure the truck rather than risk someone poking around in it. So much for my early start
Having taken care of my misstep I was back on the trail watching for the junction with the Little East Fork trail at about 1.4 miles. This trail follows the Little East Fork Blacks Fork River most of the way up the drainage in a south easterly direction. Unfortunately for me the trail begins on the south side of that river so I found myself looking at a bridge-less crossing. After a look around it was clear I would not have the luxury of a dry-feet day and had to wade across.
A view from along the trail of the LEFBF river. Time for abbreviations
The wild flowers were fired up along the trail.
One of three more river crossings. Initially I was excited to see the logs across the water but I don't trust myself on them for the most part. Being solo I didn't want to risk injury from a bad fall so I opted to wade across. This section of the river was much narrower than at the previous crossings and deeper as a result more challenging.
This trail was very muddy and at times hard to follow. Trying to figure out where the trail goes here.
The trail is a gentle climb for the majority of the way up the drainage. The last 2 1/2 to 3 miles that changes to a pretty good haul. I was getting a bit tired so I decided to take a lunch break along a small stream. The mosquitoes were out but not particularly aggressive which was a bonus. I took off my shoes to give them and my socks a chance to dry out a bit while I ate.
Back on the trail the clouds were starting to lower and darken but so far I managed to stay dry. Crossing into a meadow I saw a flash of movement behind some bushes a short distance away. I was excited to see some deer or maybe elk. I approached cautiously, as stealthily as I could only to find a huge flock of sheep! Baah! I was disappointed. From here on up I would hear their bleats and see their huge numbers at several places along the way. I get it that they have the right to graze them in the wilderness area but my gosh! There had to be at least several hundred, maybe more, of them in the area.
Suddenly I emerged from the trees exposing the huge upper bowl of this drainage. I really didn't expect it to so big and open, and so beautiful!
I was now above tree line and it decided to rain on me. Boo! I took shelter under some low firs that I was lucky to locate fairly quickly so I didn't get too wet. I decided to just see if I could wait it out and not have to put on rain gear.
The rain didn't last too long and soon I was back at it. I was feeling the elevation at this point but the goal was in sight.
Made it! Squaw Pass overlooking the Oweep Creek basin.
A look to the east revealed Porcupine Peak. Porcupine pass is just out of sight to its left.
A look back a the LEFBF drainage through which I would return.
I would have loved to have stayed on the pass for an extended rest and to enjoy the views but the rain returned with a vengeance. I quickly put on my rain poncho and started making my way back down. Wouldn't you know it I wasn't too far down and the rain stopped and the sun began bathing the area.
The big picture from just below the pass. Wait! I have to go how far down there? Yikes!
As I made my way back down the trail the rain would come and go. Never anything heavy so I didn't have to don the rain gear.
I soon realized that I might end up running short on daylight and would have to make haste to get out before dark. As most out and back trips tend to be the way out seems much longer than the way in. This trip would be no different yet even more so as I had miscalculated the mileage while planning the trip. A stupid math error led to the distance being substantially longer than I had planned. Along with this I also managed to somehow injure my left ankle. Not my ankle exactly but the front of my leg just above my ankle. It was hurting pretty bad and I expected to find a big knot or something sticking out. I didn't stop to check so I could keep moving. I would just have to deal with this later, at home.
Luckily I would be greeted with more wildflowers I hadn't seen on the way in.
I finally crossed the bridge over the river and arrived back at the trail head. I actually managed to make it out before dark which was a good thing. Signing out of the trail register I left my thoughts in the comments...
Arriving back at the truck I was exhausted yet fulfilled. I had expected the day to be fewer miles than my Dead Horse Lake trip so I was confused why I was so tired and why the trip out seemed so long. Granted there was more elevation gain but not *that* much more. Checking my mileage on my InReach revealed 24.1 miles. Oh my heck! No wonder! After correcting my early morning mistake of forgetting to lock my truck I reset the odometer so I would have an accurate measurement of the trip. That extra mileage put me just over 25 miles. Holy cow! Not in my wildest dreams!
p.s. I think I just over worked the muscles in my left leg. Its like the muscles that are between the tibia and fibula. The ones that hurt when you walk too fast on the pavement (or am I the only one that experiences that?) It has been slowly getting better and was back up to normal speed on my daily walk today. I think I'm ready for more!
Last edited: