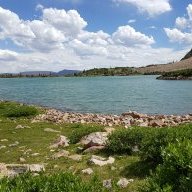 Joined

Aug 8, 2016
Messages

2,069
I recently relented and made the jump to a DSLR (Sony A6600) and three lenses. I'm trying to come up with the best way to carry any/all of this gear inside my backpack. I have a PD Capture Clip for carrying the camera with an attached lens externally when weather is good. But, I know there will be times I'll need to put it inside.

I'm thinking that at a minimum I need some kind of case for each piece to keep them from banging against each other and other things in the pack. There are many commercially available lens cases to choose from. Are there ones that are better than others? Not so sure what is the best thing to protect the camera.

Obviously I'm looking for lightweight options here but of course I want to protect my investment. What are all you using? I'm not opposed to good DYI solutions either. Just looking for suggestions so I don't have to make multiple dumb purchases to find what works well.

???