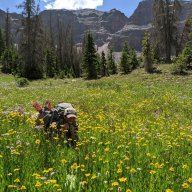 Joined

Feb 12, 2014
Messages

751
From Friday July 19 thru Monday July 22, 2019 my younger brother and I explored Idaho's White Cloud Mountains. These are in the Sawtooth National Recreation Area near Stanley, Idaho. The Sawtooths typically get most of the attention and deservadly so...they are beautiful. But on the other side of Highway 75 are the White Clouds, and they are pretty amazing as well.
We started at Fourth of July Creek Trailhead (8,800') and our first obstacle was to hike up and over Patterson Peak (10,872') to get into Four Lakes Basin.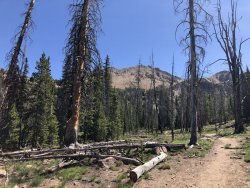 Here are the Sawtooths behind us as we climb to the ridge.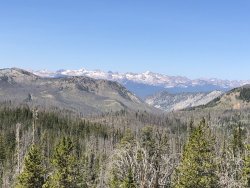 We were on a trail all the way up to the ridge that looks into Antz Basin and the Boorn Lakes. Once on the ridge there was kind of a trail up the ridge to Patterson Peak.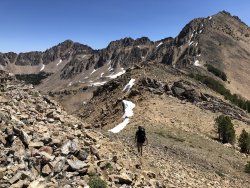 My brother summited Patterson, I did not...I was exhausted and lacked motivation. So, I decided to stay lower and side-hill across to the next ridge to drop into Four Lake Basin.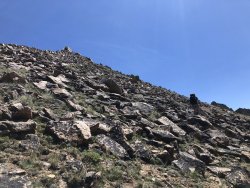 Now we needed to drop down into the basin, and there were a couple snow fields.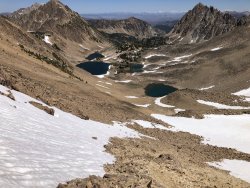 I slid down the largest snow field on my ole keister. It was fun and scary at the same time...luckily I was able to stop before coming to the rocks at the bottom!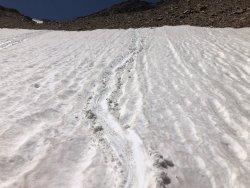 Four Lakes Basin was very pure and beautiful.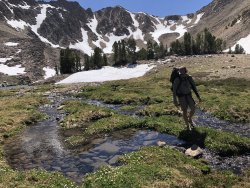 Next we hiked over to Quiet Lake that sits beneath Castle Peak (the tallest in the White Clouds 11,815') and Merriam Peak (10,920'). Here I am scouting out the area.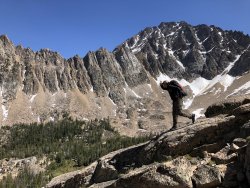 And here's Quiet Lake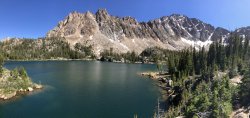 But our camp for the next couple nights was around the corner...Noisy Lake. No, it wasn't noisy at all. We had the lake to ourselves for the next couple days.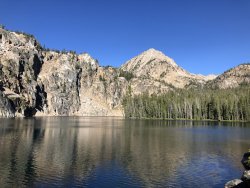 Here's our campsite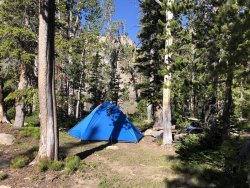 The next day we did a day hike and looped around and explored the Boulder Chain Lakes.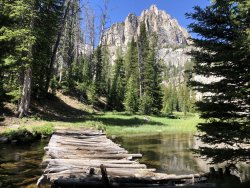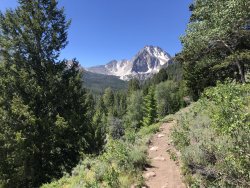 Here's a good overview of the upper Boulder Chain Lakes...and this was a great place a for a quick nap while watching a bald eagle soar around the area.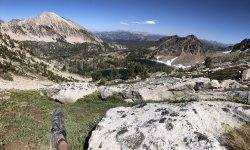 Now, up and over Windy Devil Pass to get back to camp.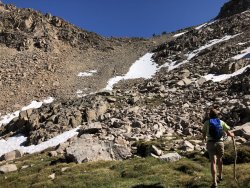 View from atop Windy Devil Pass looking at the upper Boulder Chain Lakes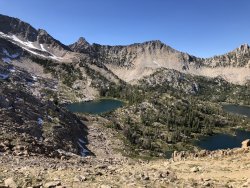 Day 3 we hiked to Chamberlain Basin to camp on the other side of Castle Peak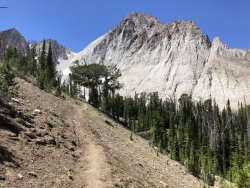 But we had to get over another pass to drop into Chamberlain Basin, this is Castle Peak as our gorgeous backdrop for the climb.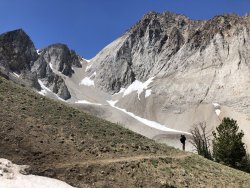 Finally made it up the long pass!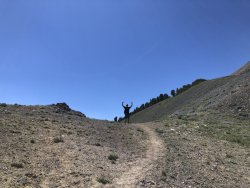 And the view of the pass we just hiked up.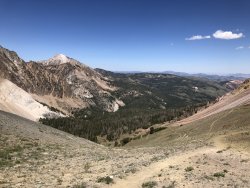 Now time to hike down the other side and around the corner to the right to our camp in Chamberlain Basin.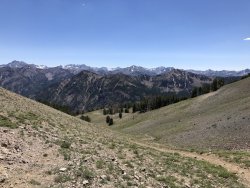 And this camp has a pretty unbeatable view of Castle Peak! With a view like this, we just hung out here and enjoyed the lake to ourselves.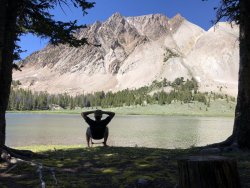 Next and final day we hiked out of Chamberlain Basin and said goodbye to Castle Peak.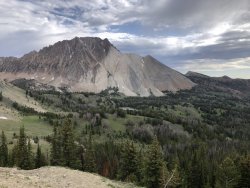 And hello burned forest!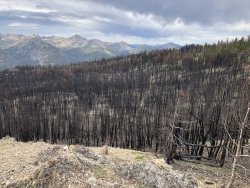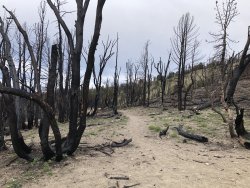 We made it out of the burned section (which felt like a scene out of Mad Max) and back to the green Fourth of July Lake.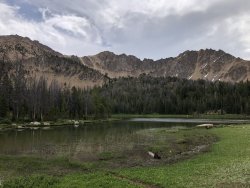 And back to the trailhead.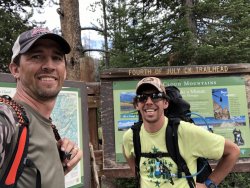 That's all she wrote. It was an amazing trip with views that are second to none. A lot of off trail hiking that I wasn't too fond of, mostly due to me being out of shape!
All in it was 32.5 miles.
Last edited: