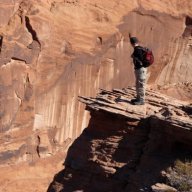 Joined

Jun 16, 2012
Messages

1,485
I just got back from Iceland today (my luggage was not so lucky) so I thought I would post some pictures I got of the aurora. I rented a fast lens and borrowed a better camera so that I could get some good photos. The plan was to spend the first two days out in the mountains where the skies would be dark and the moon was in the early waxing stages. Unfortunately, the Iceland winter didn't cooperate, and we had snow storms both nights. The next two nights were to be spent in Reykjavik, but I figured we would just drive outside of town if the weather cleared up. The last night in town the forecast was looking good. The lights are supposed to be better after midnight, so I planned to drive out of town around 11 pm. Well, around 9 pm I got bored so we just took off for a walk around town. About 9:45 the aurora just took off. Luckily, I had my camera gear, but unfortunately we were in the city and the moon was bright.
So, that's just the background to explain why the photos aren't any better than they are. I'm still happy with them considering the circumstances. And I'm just happy to have seen them.
Iceland is great. In fact, now we want to go back in the summer so we can do some backpacking.