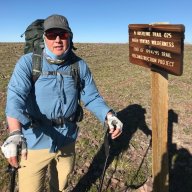 The mountains are calling and I must go
.
Joined

Mar 31, 2013
Messages

1,017
Being a 40 something guy that can't play sports the way I use to and looking for a sport that I could do with my four kids, I got interested in backpacking after a friend gave me a subscription to Backpacker Magazine.
Back in January I began planning a trip that I hoped would "hook" my kids so that we could have many more backpacking adventures in the years to come.
We decided on a five day, four night trip to the Unitas as our first epic adventure.
Being new to backpacking I have yet to invest in a really good camera, so these images are all taken with my iPhone 4s.
We arrived at the Crystal Lake trail head on Monday July 1, excited and ready to begin our adventure.
Our first stop was at Wall Lake where we got our first view of the Notch.
Here at Wall Lake we encountered our first patch of snow.
After climbing several switchbacks and helping one of the kids deal with some altitude symptoms we finally made it to the Notch and started descending on the other side.
More snow after descending on the north side of the Notch.
It's after descending below the Notch that I got my first "payday" with this spectacular view of Lovenia and the surrounding area.
Addison & Roman resting on a rock next to the trail.
Finally, we arrived at Ibantik. It did not disappoint.
After scouting around Ibantik we decided to camp on the SE. There are some sites with great views of the lake and mountains on the NW side, but there is little to no shade at these sites.
We spent two days here at Ibantik and did just about everything there was to do: fish, swim, hike, relax and play with the goats.
On the SE there is a small meadow where we camped. South east of that meadow there is a waterfall
Following this stream to it's source leads one into another small meadow with some nice wild flowers.
I then climbed up the rocks to get a new perspective on Ibantik and the surrounding area.
After spending two nights at Ibantik we packed up and continued down the trail around the mountain and over bald mountain pass.
I must admit this climb was tougher than I expected. After completing this climb we passed on Bench Lake.
Being July 3, I expected lots of people to be hiking and camping back here. Therefore, our plan was to get to Notch Lake and then turn east and go off trail and find Reid's Lake. So we got out our compasses and maps and set a bearing for Reid's Lake.
Well, we found it, but it was barely a pond, so we convinced ourselves that we hadn't found it yet. So we continued exploring the woods at the foot of Reid's Peak.
Finally arriving at two unnamed ponds at the base of Reid's Peak.
Once we arrived here we knew we had missed the lake and set another bearing for Reid's Lake, eventually finding the "lake" we found originally. It ended up being mostly marsh. So we took a vote and decided to go back to Notch Lake.
By the time we got to a camp spot we had had our packs on for 6 hours, the 2+ hours going up and down hills, climbing over rocks and dead fall. Needless to say, we were exhausted. We ate and went right to bed. Fortunately, someone made a nice little table for my stove.
We spent Thursday the 4th exploring the surrounding lakes (Dean & Clegg) and several meadows. I don't know what these flowers are but they were in almost every meadow.
Sunny tromping through the flowers.
Notch Lake
Notch Lake
Notch Lake
Reid's Peak from Notch Lake
We spent two nights at Notch Lake and I was surprised at how few people there were for a holiday weekend. There were three guys camping together when we arrived Wednesday night, but they were gone by Thursday morning. Other than them we had all the mountains to ourselves all week.
On Friday morning we packed up and hiked down to Clegg Lake and then turned west to go cross country, hoping to end up at Hope Lake, catch the trail back to the Crystal Lake trail head.
We ended up at Star Lake and decided to continue cross country, hitting the trail to Crystal Lake further south. That didn't work very well either. We finally hit the trail just above Trial Lake, so we hiked there, took off our packs and sent someone to get the truck and bring it back.
We had an amazing trip and can't wait to get back.
Featured image for home page: