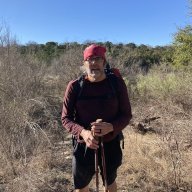 Joined

Jan 18, 2014
Messages

326
Th charts numbers are th temp And dew point added together to assist runners n hikers too see how this slows down their speed n overall distance in th conditions . And it does……..trust me.
Ok, now th report…A few years back…..well, now that I think a bit bout it, make it some decades ago in my oilfield days I overheated workin on th oil rigs in those 100+ Oklahoma summers heat exhaustion got me a time or two…fast forward to today…it tried again, but failed to do so!
When hikin this trail so close to home in summertime there are precautions to take (normal high temps are supposed to be 84,but ole Mother Nature has other ideas it seems…yeah, 101 is a tad bit more than normal). Ya gotta stay hydrated,spray herself down with bug spray…ticks n skeeters n such, watch out for rattlers, coral snakes, cotton mouths n copperhead snakes..along with mountain lions, skunks n wild hogs.. but not th Travolta n Tim Allen motorcycle ridin kind. With all this in mind, I valliantry strode off intothe wilderness, snow free cause I'm not in Utah with Scatman hikin up where there's snow And colder temps!
Gotta watch where ya put yer feet too as ankle sprains in this limestone"paved" trail can occur if's ya let yer guard down.
We r in drought conditions here in central Texas, but had abit of rain last week to keep th flowers n cactus blooming, ooops, forgot ta mention even th plants can " bite" ya..Goutta watch out fer th thornS!
There's history here too…th Native American kind and th settler's kind too as seen here usin th limestone rocks to make fences. Probably goin back to th 1850's or earlier.
Nother thing ya gotta do is take breaks n hydrate n keep hydration….here's a nice spot I usually stop at n rest for a spell…
Shoot! I plum forgot ta mention a couple of other things ya gotta watch out for hikin heere…poison ivy( as pictured) and it's cousin, poison oak, both thriving in spots in spite of th darned drought!
Not matter what th ole Goodwater Trail threw at me in those equator like conditions over 6 or so hours, I made it home ta hike a nother day…i
Suprisingly, I'd seen two other groups out backpackin…whew..overnight temps were 72 or so..hot..warned one of th groups regardin all th stuff to watch out for n found out they saw a copperhead…
It was a fun day and on my last break, I was FINALLY able to find a spot where th wind was blowin, and I set up th ole hammock n soaked th bandanna down n wiped th cool water on my forehead n settled into th hammock for a spell.
Rejuvenated, this intrepid explorer, albeit at a slower pace than earlier, trod off to th trailhead to grab a cold Gatorade outta th cooler( always bring a cooler with water n Gatorade n to eat after th hike) and refresh myself at th end of th day.
Review of my Fishin shirt…I always wore th ole standby button up nylon shirts before this and love em..I thought th polyester long sleeve 50 spf pullovers with hoodsn masks built in would be much too hot n clammy. But on th Amazon twin humid n hot day..it fared great! Not hot n clammy, no sunburn( I'd put th hat in th pack early on n used th hood in th sun). I also poured water round my neck to soak th material n that worked well.
I will be usin these in th future when hikin here and it would work wonderfully when one's sauntering in th Rockies in color temps to as a base layer.
I wont kid ya, today was a harder than my 14 mile hot Yellerstone bog hike with Scatman last year…and this was much shorter..I'll get used to this by mid June n be ready ta get outta th heat n head back to Yellerstone in Sept.
After today th Goodwater Trail will be forever more be th Hotwater Trail, at least to me it will be.
keep on hikin n stay cool!
The Trout Whisperer
PS. That pic was at th start of th day…I was a bit more ragged at th end!
Last edited: