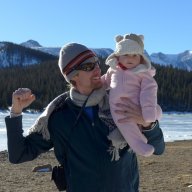 Joined

Mar 18, 2014
Messages

103
So my Panasonic Lumix DMC LX7 broke after 2+ years of great use. You can see it here:
https://www.amazon.com/dp/B008MB719C/?tag=backcountrypo-20
I really liked the HD video, super slow motion video, and just overall quality of this camera. I've been a big fan of the Panasonic Lumix series over the years but I can be easily swayed towards Canon, Nikon, you name it.
Can anyone suggest a good $200 and under camera (does not need to be the newest/latest model with all of the bells & whistles - I do not need WIFI uploading) that would motivate me to start looking for a Christmas present for myself?