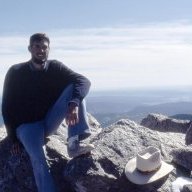 Joined

Feb 1, 2014
Messages

400
I did a search and was surprised that no one has posted a report on climbing this peak. Maybe everyone who's done it thought it wasn't a big enough deal to merit a write up. But it was for me. I tried once before and that attempt was aborted by altitude sickness by one of my companions. That aborted attempt moved this item onto the bucket list. This time I made it to the top, and it was more difficult than I expected. It was my first 14er (besides Pike's Peak which I drove up). So I decided that I'd be the first to write a report on climbing this peak.
This trip was in the making for about a year but I never really expected it to happen. I had been talking with a nephew about backpacking. He had never done it and told me he'd like to give it a try. We decided on early September after Labor Day. The problem is that he's in the Air Force and isn't really in control of his schedule. In the end this thing fell together at the last minute.
I've made the mistake a couple times now on doing something too difficult with someone new to backpacking and have told myself that I wouldn't do that again. So, I sent him some info on various places but I also mentioned the Sangres as a possibility. I told him that it was steeper and higher and therefore more difficult than any of the other places. I asked what looked appealing to him. He was fascinated by the Sangres. So that's where we went. We were limited to 3 days. We decided on doing an over-nighter and then trying Humboldt as a day hike.
Humboldt is a 14er in Colorado's Sangre De Cristo range. The Sangre De Cristo mountains are my favorites in Colorado. I've been going there to go hiking for about 20 years. In my experience, there are no other mountains in Colorado quite like them. They are a tall spine of mountains running north - south from Salida to Ft Garland - about 70 miles. They are no more than 10 miles wide but this little mountain range has about 75 of Colorado's 600 mountains between 13000 and 14000 feet and it has 9 of Colorado's 53 mountains over 14000 feet. Nearly everything is high and steep. Treeline at this latitude is about 12000 ft. There's an awful lot above treeline. Humboldt is considered the easiest of the 9 - 14ers in the Sangres, but I didn't think it was easy. The trailhead requires a high clearance 4 wheel drive vehicle and about an hour to reach from the end of the maintained road. Parts of the road are pretty bad. From the trailhead it's a 5 mile hike to the top of Humboldt. The first 4 miles ascend 2000 ft and the last mile ascends another 2000ft. The last half of that last mile entails a fairly steep scramble up a boulder field along a ridge. There is a cairned route through the boulder field which at times was fairly hard to identify and follow - particularly on the way down. We had a cloudless day all day which was fortunate, but it was very very windy from the time we reached the South Colony Lakes to the time we returned to them.
Rain storm we saw as we were approaching Westcliffe, CO. I was concerned seeing this but the weather was excellent the rest of the time we were there.
I didn't take a lot of photos on this trip particularly once we got to the boulder field because I never felt secure due to the wind and I was mostly just concentrating on trying to make way. This was taken just before reaching the Lower South Colony Lake. Broken Hand Peak is on the left. I assume that it gets it's name from the formation just right of the highest highest point. I think the formation looks like a hand being held with the fingers pointing up. The peak on the right is Crestone Needle.
This was taken just above the Upper South Colony Lake. I think the view is more impressive than this photo conveys. The cliff beyond the lake is almost a half mile high.
This was taken from the saddle between the North Colony and South Colony valleys looking back at the South Colony valley.
This was taken from the saddle looking into the North Colony valley. The high peak on the right is Colony Baldy (13715).
Humboldt has a false summit with a saddle between the false summit and the true summit that's about a football field in length. This was taken from near the top of the false summit. The peak on the far left is Crestone Needle (14197). Just to it's right is Crestone Peak (14294) and the highest point on the right is Kit Carson Peak (14165).
This was taken from the saddle between the false summit and the true summit looking back at the false summit. If you look closely you can see my nephew on the slope just below Crestone Peak.
Just below to my left on a ledge is a container (grey and gold) for the peak register. There was a pen inside that didn't work and we didn't bring a pen or pencil so we didn't sign our names on the register. This is my evidence that I made it. It may not look like it but the wind was howling up here.
This marmot was nearby. It must have been used to seeing people. It was the only one we saw that didn't seem concerned by our presence, ignoring us almost entirely even though we weren't very far away.
View south from the peak. The highest peaks on the horizon in the middle of the picture are some more 14ers on the south end of the range.
This Big Horned Sheep ewe must also have been very used to people. It walked up the slope past us not 15 feet away from my nephew while we were on our way down..
Thanks for looking. Hope you get a chance to climb this and see the incredible views for yourself.