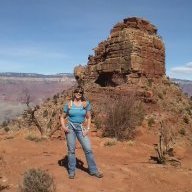 Joined

Oct 1, 2012
Messages

957
Moderator note: This thread was split out from the
Campsites album
.
I remember back when I first joined this site, seeing an awesome tent picture taken by

@Laura

...

http://backcountrypost.com/threads/my-tent-shot-is-the-featured-photo-for-best-of-may-2014.3360/

. It left quite an impression on me and was one of the many pictures on here that inspired me to buy a camera and start learning a little.

Nowhere near the quality of Laura's, this was my attempt at doing something similar on a quick overnight this weekend.

Harriman State Park, NY
Cool shot! The key things to that tent shot I took were a moonless night and lighting the tent for only a second or two. And LOTS of processing to lighten up the cliff-when you have completely dark skies you need to do a little light painting or you just get silhouettes, but that was a spontaneous shot and I didn't have any light source with me.