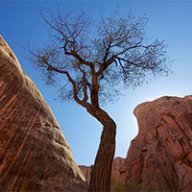 Joined

Aug 9, 2007
Messages

12,940
This August, I intend to take a full week and go to the Winds. I'm not necessarily trying to smash out miles, that's not my thing. But I do want to maximize my time spent. It's not often I take a WHOLE week off and go do something. So I'm trying to think of the optimal way to spend my week. Technically we'll have 9 days away from work. I'd like to get home on day 8 so that gives 6-7 nights actually on the trail. I imagine the first day will be spent shuttling vehicles so not a lot of hiking but at least a bit of the way in. And the last consideration is my P.O.S. knee. I'm feeling pretty confident on a big hike like that but probably not so confident in venturing off into the trail-less areas in the Fitzgerald Wilderness. Or maybe I am, I don't know.
So with all that said, this is kind of my initial thought.
View larger map.
Any thoughts on that? I know by real thru-hiker standards that probably is moving slow, but by the standard of enjoying the trip and soaking in the scenery (with a crappy knee), am I pushing it? Should I cut out the Cirque or Knapsack Col and make it more direct? Or should I look somewhere else entirely. A big loop perhaps?