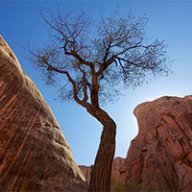 Joined

Aug 9, 2007
Messages

12,940
Nick submitted a new resource:
How to Shoot Star Trail Photos
- A tutorial for shooting star trail photos with a DSLR camera.
I've had a lot of people ask how I shoot star trails so I thought I'd post up a little tutorial here. I won't claim to be the expert on this but I've done it enough to know my way around.

I haven't updated this for a couple years so I may need to read through this and update shortly. Just getting this posted as-is for now to get the Resources section running.

Equipment needed:

- A digital SLR Camera

- A sturdy tripod

- A wired remote control trigger

The wired trigger can be an...
Read more about this resource...