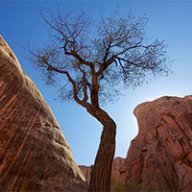 Joined

Aug 9, 2007
Messages

12,940
If you do it right hanging is an excellent means of protecting food and gear from bears; unfortunately very few of us REALLY know how to do the counterbalance method and just tying it off is far less reliable.
Maybe I'm a clutz but to hang it right, like as in 15 feet high between 2 trees, is a total pain the butt imo and seems to take me at least 20 minutes each time (not to mention getting it back down in the morning). And I always seem to be racing daylight to finish dinner, brush my teeth, and hang. I've done the quick 3 minute hang from a branch but we all know that's usually not too reliable, especially against rodents who can climb vertically on cordage. They are required in the ADK's but I took the canister on a local overnight where it wasn't required last year and loved being able to just walk off and drop it without worrying about sunlight and spending what should be a relaxing evening, wandering around looking for the perfect tree, tossing rocks and untangling knots.
These two posts in their respective threads got me thinking I want to hear what people say is the correct way to hang a bear bag.
A quick google search led me to this article and graphic about the 'PCT Method', which is basically what I do minus the stick. Adding that to my routine seems like an easy thing to do, but I want to hear and see what everyone else does.
http://theultimatehang.com/2013/03/hanging-a-bear-bag-the-pct-method/