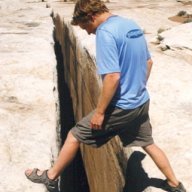 Joined

Mar 29, 2012
Messages

38
A few weeks after my solo trip with my daughter to this area in the San Rafael Swell, my wife and I were able to head down there alone to do some hiking and camping.
We took Friday off and headed down fairly early from Salt Lake City. We got down around noon and hiked Horsethief Canyon to a spot we've been to many times. I proposed to her out there, had my bachelor party out there and have been many other times so it was good to get back. We made it out and back pretty quickly while enjoying the rim for a while as well. We camped that night and ended the day without seeing a soul in the desert.
The next day, we didn't have as much time so we just quickly decided to go north on the Tidwell Draw road and do Grotto Canyon which is a shorter one. We saw a few cars on this northern part. One coming South and another parked at Cottonwood Wash and a few ATVs driving by as we started the hike.
The hike is short but typically has water (at least after the recent rains) so it requires stemming or wading. I stemmed the 3 major sections and my wife stemmed 2 before having to wade the last one. The Grotto is ok, but nothing super spectacular after the hike in.
After getting back, we drove the road north following a family of dirt bikers till we hit the Green River Cutoff road and headed back to Hwy 6 and home.
As I said in my last post...things die out here. This cow had no right being where he was. I'm really not surprised he didn't make it out.
Featured image for home page: