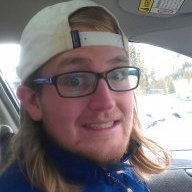 {insert witty remark here}
Joined

Jan 22, 2012
Messages

151
I think some of you know I've made one, but I wanted to wait till I've experienced it, out on the trail before I posted my review and such. I purchased the kit off thru-hiker.com and loosely followed the instructions on there. Why did I decide to do this? Well, I wanted to upgrade my bag. my old marmot was almost 3lbs! I wanted a bag that was warmer than it but under 2lbs. I came extremely close to purchasing the marmot plasma 15, but I just couldn't pull the trigger. I came across nunatak online and thought, hey I bet I could make that. Ensue crazy googling and planning for months.
this is more of a review of how it works, than how to build it, though I'm more than happy to answer any questions so fire away, there's already a ton of stuff online with instructions though.
Now that this has been out on multiple trips, I can say I almost love this to death. I say almost because my worst enemies are: I made it too lofty for desert spring/summer and drafts (~2.5 in loft). I need to do more about keeping out drafts, I know exactly what modifications to make for this as I was planning on doing them in the first place but decided to see how it worked without them (pieces of fabric that go under my pad and velcro to the other side of the quilt, I've already got one, want to add 2 more now). so I would go through spats of being really hot, and then getting a quick cold draft. Obviously, drafts were a MUCH bigger problem when sleeping under the stars. I didn't even need to enclose my quilt when sleeping in a tent with this quilt.
PROS:
-it weighs ~20 oz, including stuff sack
-2.5 inches of loft means if i can eliminate drafts this should keep me warm to around 20.
-pride that I made something of my own (its far from perfect but so far everyone's pretty jealous of it)
-roomy. I can move around way more freely than my old bag.
CONS:
time. It took me like 30 hours to do this. My next one will be faster, but sewing, cutting, planning...its time consuming. I should have studied instead... well, actually no this was worth it!
-drafts
-it feels flimsy, but it survived a few days of dog claws fine so I may be wrong in that suspicion
Now that I've successful made my quilt, I plan on making two more in the (distant?) future: a winter and summer specific one. This was a really fun project and I now think I may start making more of my own gear. I took some pictures as I was making it, but I can't find them, when I do, I will post them.