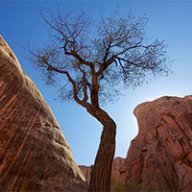 Joined

Aug 9, 2007
Messages

12,939
Please, no.
http://www.sltrib.com/news/4858083-155/lawmakers-hope-to-create-utah-state
But I can't help but enjoy the irony in these statements:
The perilous six-month journey over the winter of 1879-80 is a signature achievement of Mormon settlement in southeastern Utah. No lives were lost and two babies were born on the trip that was supposed to have taken only six weeks.
...
"I hope they would be receptive to improving and making the land more accessible, especially given the notion that it is a historical landmark," Stratton said. "There is frustration in the past because of a lack of resources."​
Because driving a stock 4WD vehicle down a long, mostly graded dirt road is like hard and stuff. There isn't even a gas station or restaurant out there!