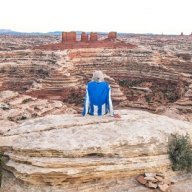 Joined

May 18, 2012
Messages

295
Hi , I live in the UK, but have hiked around Utah on about 20 vacations, but my usual companions can't go this October, so I can't decide whether to fly out alone, so I wondered if anyone would be interested in linking up for some remote hikes and canyoneering.
The main places I want to go are Orderville Canyon, Bull Valley Gorge (here )
http://www.americansouthwest.net/slot_canyons/bull_valley_gorge/canyon.html
, Sand Wash loop (also called Red Cave near Kanab) here
http://www.americansouthwest.net/slot_canyons/sand_wash/red-cave.html
and the West Fork slot of Fat Man's Misery, then exiting via the Barracks/Parunaweep.
There are other places on my "B-list" further east towards Page like exploring slickrock areas like Lower Resrvoir on the Vermillion Cliffs Nat Mon via the sandy roads (not Coyote Buttes or Whitepocket which I've been to unless its a shortish visit), the slots of middle sections of Waterholes Canyon.
The only problem for the canyoneering bits is although I've rapelled I'm really a beginner as others set everything up for me. I plan to do ZAC's one-day course at the start of my vacation (maybe others would like to join me) which I'm told should be sufficient for these beginner canyons with just the odd short chockstone descent, but I'd still not be keen to go alone to canyons where probably there will be no one else all day. So I wondered if any of your canyoneers would like to come along, OR I do know a canyoneering outfitter/guide who will go and extra people reduces costs. His partner also shuttles from the Parunaweep/French Canyon exit all the way back to his/client vehicles just outside Zion NP
Many thanks, Ross