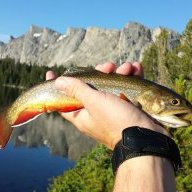 Joined

Jul 25, 2013
Messages

73
This post is long overdue, but I figured I would still put it up anyway, better late than never.
For starters, below is a video I made of our hike, be sure to change the video quality to 1080p for better quality!
Saturday August 9th:
Before another year of college was under way, my friends, Andy, Alex, Ben, and I left Omaha, Nebraska at 5 am and headed west. We arrived in Lander around 4pm mountain time. Then, after getting our permits to cross and fish on Tribal lands, we headed to Dickinson Trailhead. The trail is about a 1.5 hour drive off road through the mountains. This drive was full of great views and many antelope. Once we arrived, we set up our tent there and relaxed for a bit. One thing that stood out that night was from the trailhead you could see Adam's Pass, the pass that we would be crossing the next day. This pass was over 11,000 ft and we were at around 9,400 ft. It looked very high above us so we went to bed early to get plenty of rest.
The view back towards Lander on the Drive in
Couple of Antelope on the mountain side
Sunday August 10th:
We left the trailhead at 8 am. The trail we used is known as Bear's Ears Trail. It follows along Bear 's Ears Mountain. We followed many switchbacks up the mountain till we reached Adam's Pass around noon. After the pass we hiked about another mile to a small glacier with a stream running through it. In total, we had hiked 5 miles at this point today. Here we had lunch and relaxed for about an hour. Our original plan had us stopping here and camping at this location for the first day. But after some talking, we decided to continue on to our next day's location so that we could cut a day of hiking out and get in some more time to fish.
We continued to follow the Bear's Ears Trail all the way up to 12,000 ft. At the highest point we were greeted with an amazing view of a portion of the Wind Rivers area. In the distance we could see Grave and Baptiste Lake, two of the lakes we intended to fish later on. We could see many other lakes in the area along with many impressive mountains and cliffs. After relaxing here for a bit, we continued on to Valentine Lake, the place we would camp the first night. We arrived there around 7:30 and were all very worn out from a rough day of hiking. Overall, we hiked about 11 miles today. Once the tent was set up, we fished the small outlet creek and caught some Brook Trout with the biggest being about 10".
All ready to start the hike! Behind us is Adam's Pass. From left to right is Alex, myself, Ben, and Andy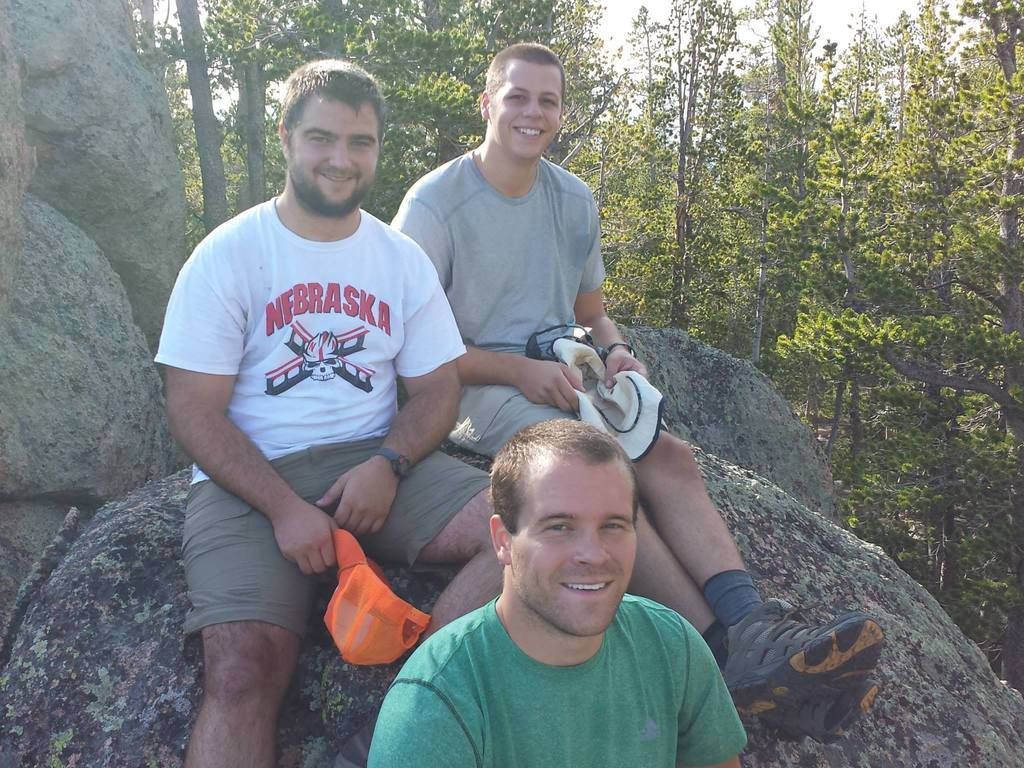 Taking a break partway up the mountain
View back towards the trailhead from Adam's Pass
Filling up on water
Alex and Ben relaxing during lunch
The view from the top of Bear's Ears Trail. Grave Lake can be seen in the center with Baptiste up behind it.
Another picture with Grave Lake behind us
Monday August 11th:
I woke up early and fished Valentine Lake on my own. There were many fish rising to the surface so I put on a Elk Hair Caddis, the go to fly last year. Right away I started catching some nice Brook Trout. After playing with the trout on the surface for a while, I eventually switched to an Olive Scud and really started to catch a lot of big Brookies. During my time fishing this morning, the Brook Trout probably averaged 12" with the biggest of them being at 13". I also caught some very nicely colored males as well. At one point, a very large trout swam by. I have heard that there are either Rainbow trout or Golden trout in this lake as well, so it was likely one of these types of trout and I guessed it to be over 20 inches. The fishing soon died off so I made my way back to camp and we all relaxed for a bit.
Around noon, we then had lunch and packed up to hike to Grave Lake, about 3 miles away, for our next camp site. On the way there, we talked to an outfitter that was guiding some people on the South Fork of the Little Wind River and he told us that each of the previous two nights a bear had gotten into peoples bags or stolen them at Grave Lake. This obviously put us on alert as the lake is easily small enough for the bear to comb the shore line for camp sites each night. We had always been hanging our bags anyways, but now we especially made sure that they were high enough and far enough away from the tree so the bear couldn't climb the tree to get to them. Once camp was set up we all went for a swim in the lake. This water was pretty cold but was super refreshing and it felt good to wash off. Soon after this, a storm rolled in and we were forced into the tent for the night where Andy kept us entertained with some riddles. Today's hike was about 4.5 miles long, a very nice day compared to the previous day
Valentine Lake Sunrise
Valentine Lake Brookie
Tuesday August 12th:
Ben and I both got up early to fish Grave Lake. Early on I had a Lake Trout on and got him up onto the edge of the shore when the fly popped out and he flopped back in before I could scoop him up. I still had yet to officially catch a Lake Trout. I estimated him to be at 17". We continued fishing and a little later I caught a 17" Cutthroat trout. After releasing it, we headed back to camp and got ready for the day. Today we were planning on taking a day hike up to Baptiste Lake, about 3 miles away. Going there and back would only give us 6 miles of hiking. We left most of our gear behind and all headed up the trail. At Baptiste, Ben caught three Cutthroats all being around 15‐17" and I caught one at 17". We fished here for a couple hours then headed back to Grave Lake.
At Grave I took out my spinning rod to fish a spot with access to deeper water for some Lake Trout and caught one that went about 12‐13". My first official Lake Trout! Back at camp we had dinner and then Ben and Andy went to fish the lake while Alex and I relaxed for the night. Ben ended up catching a very large 20" Cutthroat from the lake. That is a text book reason as to why I should not have stayed back to relax!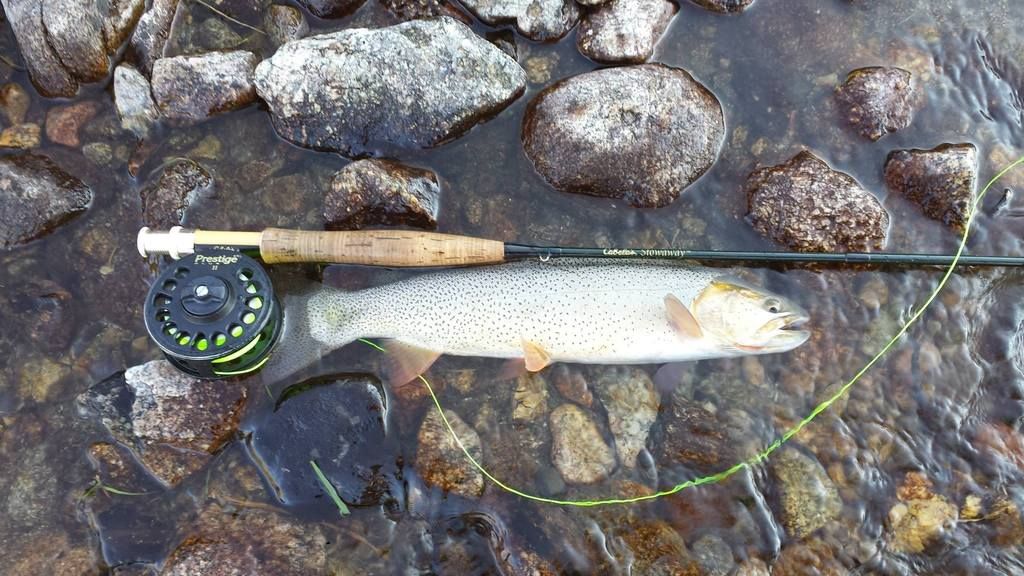 17" Cutthroat I caught at Grave
Same fish
Ben trying for a Grave Cutthroat
Grave Lake
Baptiste Lake
Ben with a Baptiste Lake Cutthroat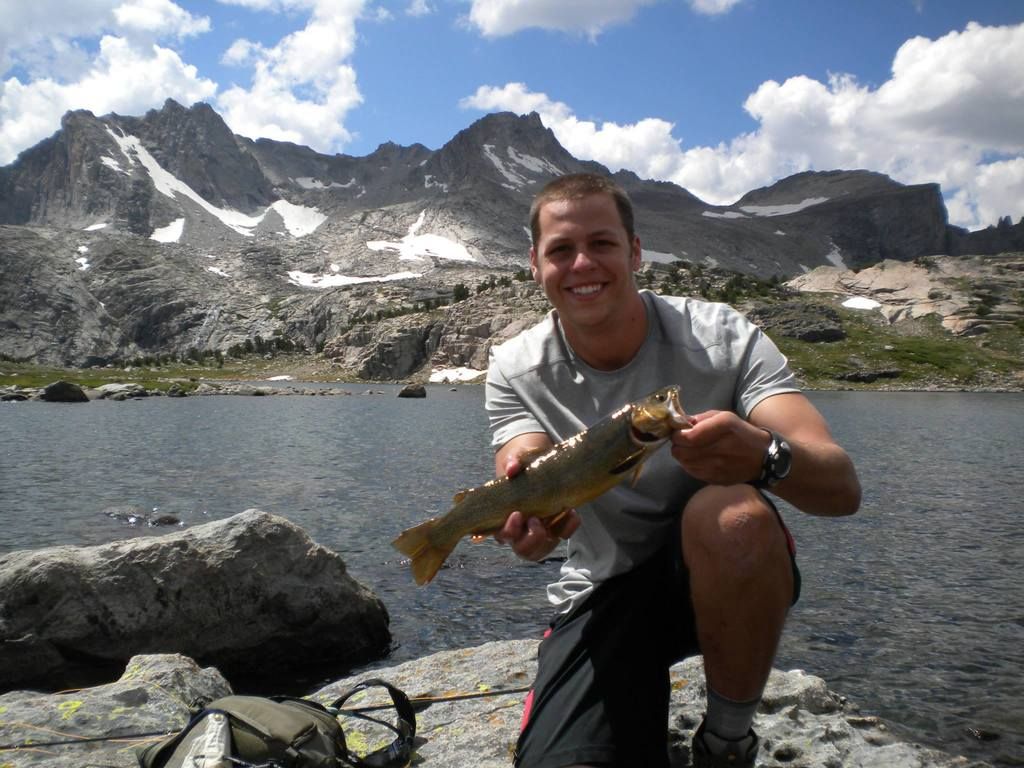 Ben with another
My first Lake Trout! It may be small but it still counts!
Ben with a big Cutthroat
Wednesday August 13th:
With fishing being no good early in the morning because of some strong winds, we all packed up to head back to Valentine Lake. On the way we stopped to fish the South Fork of the Little Wind River. We caught plenty of 6‐8" Brook Trout, some of which we kept for a creek side lunch. While Andy and Ben cleaned the trout, I prepared them for the pan and Chef Alex fried 'em up. When fried up with a little bit of lemon seasoning, these trout were DELICIOUS! Bones were all that remained of those fish as no meat was left to waste.
We arrived at Valentine Lake around 3 pm and relaxed for a bit after hiking the 4.5 miles back to Valentine. Then, around 7pm, we all headed out to try to catch some dinner. Alex and Andy both went to fish the outlet creek, while Ben and I fished the lake and made our way to the inlet creek. Ben and I were slowly fishing along the lake towards the inlet creek. At one point I was about 100 yards ahead of Ben. I stepped across a small creek, pushed through some trees, looked up, and right there at 20 yards was a bear. I froze and quickly realized that Ben had the bear mace on him and was not near me. The bear turned and ran about 10 yards then stopped, turned back, and started walking towards me. It then stopped behind a bolder and peered out from the side. About this time I yelled to Ben that there was a bear but he couldn't see it. I got back to him and we looked back to where the bear was and now it was standing up on the boulder, watching us. We made our way back to our camp and on the way, stopped by another group's camp to warn them. Turns out they had heard me yell about the bear and watched the whole thing through binoculars and had seen the bear. We then got back to our camp and Andy and Alex had apparently heard the ordeal as well but couldn't see the bear. It is amazing how well sound travels out there. I didn't even really yell and more of spoke in a loud, calm voice.
Ben then went on to fish the outlet creek, while Alex and Andy went to find a tree to hang our bags in for the night, and I stayed back in camp to clean some stuff up. While I was digging through my bag, I saw movement out of the corner of my eye and looked up. There was the bear again, now at 5 yards looking at me. I was between him and the food he had probably come for and once again I didn't have the bear mace on me. We had brought two bear mace canisters with us and for the most part we were always near one. He quickly turned and ran towards the lake. I yelled to Andy and Alex to alert them that the bear was in our camp and they turned and saw him running away. The bear then hopped across some boulders at the edge of the lake before disappearing. Both of these sightings happened with in about 45 minutes. It was pretty exciting/scary/surreal to see that bear that close. Because of the multiple encounters with this bear, we felt it was only right to give it a name so Andy dubbed it Cody. Later, the neighbors we had talked to earlier, came by to talk to us about the bear and informed us that after I stopped by their camp, the bear came by and watched them at about 10 yards for two minutes. They couldn't get it to leave and they even threw a rock at it. They apparently didn't want to mace it because they felt it was unnecessary. We now think that this bear followed my trail back to the camp site looking for food. The rest of the night was rather uneventful and we went to bed as a storm rolled in.
Mmmmm Tasty!
The bear running away the second time. You can probably understand why the camera was a little shaky
Thursday August 14th:
On Thursday we hiked the rest of the way out and made it out relatively quickly. From talking to other people, it sounds like the cinnamon black bear I had seen was well known in the area and was getting a little too friendly with camp sites. From what we heard, the bear was going to be put down soon if it kept venturing close to the camp sites.
Overall we had a great trip and can't wait to get back out there this year!
Featured image for home page: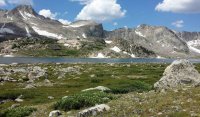 Last edited: