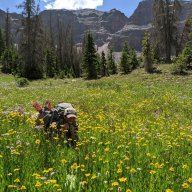 Joined

Feb 12, 2014
Messages

748
I've had the Highline Trail in my sights for a while. I've never done a long trip like this, and really wanted to test myself to see if I could actually do it. Last year I was planning trips and I invited two of my brothers to join me. They both said yes and the planning begun. As things got closer my older brother wasn't able to go due to some good ole surprise health issues, so I looked for someone else to join us. Luckily for me
@WasatchWill
also works at BYU like me, so I talked to him and he was more than willing to join the fun!
So it was the three of us...me, my younger brother Steven, and Will. Looking at our availability, we decided that we had six days to get this done. I didn't want to do all 80+ miles of the entire Highline (Leidy to Highline) over six days, so we adjusted it and decided to start at Whiterocks trailhead and make this a 70+ mile trip. Why Whiterocks? Because I was familiar with it, it's a little closer than Chepeta Lake (same dirt road), and the trail to Fox Lake is prettier than the Chepeta to Fox Lake trail over North Pole Pass.
The dates of our trip were Sunday, August 14th to Friday August 19th, 2016.
So Steven drove down from Boise on the 13th and I met him in Kamas and we left his car at the Highline trailhead for the week ($12 for a 7 day pass). Drove back to my house and spent the night there. Got up the next morning...not too early, it is a vacation day after all, and loaded our packs and drove to Provo to pick up Will. All loaded and ready to go. My pack weighed 32 lbs, Steven 45 lbs, and if I remember right Will's was 35 lbs (is that right Will?). Made the long drive to the Eastern Uintas (approx. 3.5 hrs) and ate our Subway sammiches at the trailhead, now it's go time!
We thought it was funny that there was actually an address at this trailhead. Left to right, me (Adam), Steven, and Will.
Steven got us registered and we were on our way to our first night at Fox Lake.
We came up on this meadow and I was saying that this looks like a prime spot to see a...LOOK A MOOSE! It's kinda hard to see here. It's the dark spot in the middle. He was laying there just enjoying the day, rolling around on his back and loving life.
We are on the right track!
Steven showing off the proper stream crossing skillz.
After a quick break at Cleveland Lake we headed up and over the Fox/Queant Pass.
Looking up the pass, our first of many on this trip.
Looking back down the pass toward Cleveland Lake area.
Me at the top of the pass and now descending to Fox Lake.
At Fox Lake we meet up with the Highline Trail.
Camp #1 at Fox Lake. Steven and I shared a BA Copper Spur UL2 and Will was on his own...his tent isn't pictured here.
Day 2 we headed toward Kings Peak and Anderson Pass.
Lunch stop this day was at Kidney Lakes. This was a great spot and the fish were jumping. We didn't bring any poles, but sure enjoyed the views.
An afternoon rain storm was coming, and was actually only one of three days we had rain. We didn't have any rain overnight, just the good ole Uintas afternoon storms. Never saw any lightning, and only heard thunder on day five. So weather was pretty ideal the whole trip.
We made it to the base of Kings Peak and setup camp in a great spot. We noticed a cairn off trail and thought someone is marking a campsite. Sure enough, a great spot was hidden back in the trees.
Camp #2 and yes, I brought my chair. I love that chair! And it was worth every bit of its 1.75 lbs. My back needed some sweet TLC on this trip.
The next morning was clear skies and perfect for summiting Kings Peak.
Just needed to fill up our water bottles, and FYI I highly advise taking extra water. One liter for the hike up Kings, and another for the hike down Kings and into Yellowstone basin.
Before heading up Kings, we took a peek down The Chute and into Henry's Fork Basin.
Looking up Kings Peak.
We made it!
And this is the proper way to pose for photos in all situations!
Back down and headed down the other side of Anderson Pass into Yellowstone Basin.
Looking up the other side at Kings Peak.
Now on to North Star Lake.
Camp #3 near North Star Lake.
Another sunny morning for the hike over Porcupine Pass.
Will decided to get up earlier and hike up Wilson Peak and get some shots down into Red Castle Lake. So he'll have to post those photos. Steven and I opted for the extra sleep and laziness.
We met back up with Will here at the top of the pass.
Looking at the other side of Porcupine Pass into this HUGE area with Oweep Creek. I don't know the name of this area, but it is absolutely massive! Photos don't do it justice, you gotta go here and see it. It's about 1-1.5 miles wide and 3.5-4 miles long and these tall mountain walls on both sides and is awesome. We were talking that it is a perfect setting for a Lord of the Rings type battle of 20,000 with a castle backed up against the mountainside.
The trail hiking down.
Those steep mountainsides.
Another afternoon storm. It mostly went around us.
Our original plans were to have a 13 mile day for our final day we hike out to Highline trailhead. We decided to try to shorten that by making a couple longer days earlier in the week, weather and health permitting. So this was one of those days we decided to make it over Red Knob Pass and camp closer to Dead Horse Lake. This pass was in my opinion the most difficult. It was looong, and I was very tired. We ended up hiking just over 17 miles this day!
We waited out a brief rain storm before heading over red Knob Pass with some friendly neighborhood sheep. They were loud!
We made it to the top of Red Knob Pass, and this is looking back over the trail we came up from.
Camp #4 was about a mile below Dead Horse Lake and was another amazing camp site. Probably the most scenic.
Another sunny and great morning! This is hiking up to Dead Horse Lake. Our goal for the day was to hike over Dead Horse Pass, thru Rock Creek Basin, over Rocky Sea Pass, and make camp at Pigeon Milk Springs.
Dead Horse Lake...probably my favorite lake in the Uintas. And believe it or not, there's a trail up and over that mountain behind the lake! You can't see it until you hike it.
I'm still searching for this trail!
Proof the trail really does exist.
Looking down at Dead Horse Lake.
Looking over the other side of Dead Horse Pass at Rock Creek Basin.
Another rain storm, this one had thunder and hail. We stopped for lunch and Will decided to leave some expensive prescription sunglasses back where we ate, so he got to hike a mile or two extra to get them...yes he found them!
After Helen Lake we turned down passed Lightning Lake, seen here.
We did opt for the higher route around Rock Creek Basin. We did turn south by Lightning Lake instead of going around the rim of the basin by Gladys Lake. We still got to see some great views. Too bad it was cloudy and rain off and on.
Finally made it to the base of Rocky Sea Pass!
Going up the pass looking back toward Rock Creek Basin.
Made it to the top of the last pass of the trip!
Hiking down the other side and Mt. Timpanogos is in the distance.
Camp #5 Upon reaching Pigeon Milk Springs, we found others already there. So we looked around and didn't see anything, so we made camp at nearby Olga Lake. This ended up being just over 16 miles for this day. Will needs to share his sunset photo from this night...it's pretty nice!
Final day, and we only have 6-7 miles to go this day. Here's Steven demonstrating Happy Trails.
Some of the scenery...
Almost there!
And we made it!
Lunch at Granny's in Heber was very nice.
Here is the Gaia GPS link from the trip that I tracked on my phone:
https://www.gaiagps.com/public/SHufERITmUfNRpfFkU4bwXPt/#?layer=GaiaTopoRasterMeters
Six days, five nights, and on my phone it said 74.5 miles. This link says 72.0 miles...so it's somewhere in that neighborhood.
Day 1: Whiterocks TH to Fox Lake
Day 2: Fox Lake to Painter Basin
Day 3: Painter Basin to North Star Lake
Day 4: North Star Lake to Dead Horse Lake
Day 5: Dead Horse Lake to Olga Lake
Day 6: Olga Lake to Highline TH
The trip was epic, and surprising enough...my legs weren't that sore the next day/week.
Will took some videos, so you'll have to look for those as he finishes editing them.
Any questions?
Last edited: