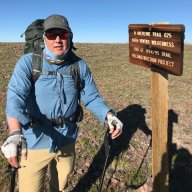 The mountains are calling and I must go
.
Joined

Mar 31, 2013
Messages

1,024
This is a test run of embedding from my blog to BCP.
@
Nick
I've got this TR broken down into several parts. If you prefer that I submit it as one TR let me know and I"ll do that.
From July 21 through July 26 2014, two of my children and I went on a backpacking trip through the High Uinta mountains in Utah. We started out at the Highline Trailhead full of excitement and enthusiasm for the adventure that lay ahead.
Unfortunately, it didn't take long for the first tragedy to strike.
Do you see those small logs in the middle of the photo? I was trying to cross this puddle by walking across those logs when the log rolled out from underneath me so fast that I didn't even have time to catch myself and my face crashed into that flat rock in the middle of the puddle.
As far as backcountry tragedies go this was on the mild side. Because this was more of an injury to my pride we quickly made our way through is section of trail, which is the least scenic of the whole trip.
Here's the GPS screen shot once we reached Pigeon Milk Springs.
We were planning on this being a nine mile hike so we arrived into camp earlier than expected.
Here's a few photos of the Pigeon Milk Springs campsite.
You may be wondering where the name Pigeon Milk Springs comes from, well after much research . . . I've found nothing. The water does have a milky color to it due to glacial dust, or small mineral particles in the water as it comes to the surface. The one thing I do know, this is probably the best tasting water in the Uintas. That's not to say Uinta water is bad, the Pigeon Milk Springs water is just really cold and tasty!
After an early bedtime, which would be the case every night this week. We awoke to a beautiful sky, had breakfast and were on our way up Rocky Sea Pass.
From Pigeon Milk Springs the trail starts out moderately steep, but soon becomes a smooth incline.
This photo shows the last stretch to the top of the pass.
Roman & Addison at Rocky Sea Pass.
Orem Chiropractor-R. Ned McArthur, D.C.
560 S. State Ste C2
Orem, UT 84058
Phone: 801-225-1311
URL:
http://AskDrNed.com
Connect with Orem Chiropractor – R. Ned McArthur:
Google+
Facebook
Twitter