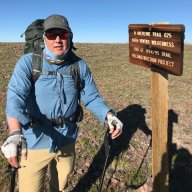 The mountains are calling and I must go
.
Joined

Mar 31, 2013
Messages

1,024
This trip first appeared on my blog as nine different parts. After doing five here, I was feeling I was stretching it out a bit more than I should have. So here the last four parts to this trip.
After hiking around the lakes and going up and down the nearby cliffs we headed back to camp - I wanted to bathe and do laundry.
It can't be seen from any of the pictures I took, but Lightning Lake has a good flowing stream feeding it and since moving water is typically cleaner water, this where I headed to.
I have a vinyl bucket that I use to hold water while I wash myself and then my clothes. After washing myself I got some clean clothes and I felt great! As I was finishing my laundry rain started falling.
Addison and Roman were on the opposite side of the lake from me, so I picked up my clean, but still wet laundry, yelled to them and we made a quick trip back to camp and our tents.

I'm in a stand of pines, taking this picture. My wet clothes are hung up behind me in a tree. I took this picture and then climbed into my tent and read my book, hoping the storm would quickly pass - this was about 4:00 PM.
Between 5:30 and 6:00 the rain had mostly stopped and we were ready for dinner. In case I haven't mentioned it previously, the mosquitoes at Helen Lake were terrible! One would think that rain would keep the mosquitoes away. I guess these critters were water proof, because we were getting a light sprinkle of rain and bugs buzzing around our heads. This combination of annoyances caused us to get in our tents and go to bed early - about 7:00 PM.
It rained enough overnight that I was slightly concerned about taking camp down in the morning.
Even getting into bed at 7:00 PM we slept until about 8:00 the next morning. After climbing out of the tent Thursday morning this is what I saw.
So after getting up Thursday morning my concerns about moving camp in the rain were quickly put away.
So we ate, packed up and got on the trail again. On this day our destination would be Ledge Lake.
Here we are a little past Helen Lake descending off the rim of the Rock Creek Drainage. This was an awesome view!
Here's some more of the scenery we passed during our hike towards Ledge Lake.

The hike between Helen Lake and Ledge Lake wasn't difficult at all and was only about five miles.
Here's the GPS screen shots after arriving at our camp spot at Ledge Lake.
This is Ledge Lake later that evening. When I do this trip again, I'll spend a rest day here, I really LOVED camping here.
Having arrived at Ledge Lake fairly early in the day, we decided to do some exploring. So after getting our camp all set up Roman and Addison start climbing up the nearby boulder field to reach the top of a waterfall.
Roman and Addison climbed this wall of boulders like they were walking up a set of stairs.
Once we reached the waterfall and Roman now having discovered a previously unknown talent for climbing boulders as though he were Spiderman, he decided we wanted to do "more."
So more we did.
As you can see there is a rather long field of boulders here that we worked our away across. While it wasn't necessarily my idea of a great time, Roman was loving every minute of this. While working our way across this field he found a great perch with a great view of the surrounding area.

It was here that I had the idea of getting higher up the cliff we're skirting around and finding our way towards Continent Lake. Unfortunately, even though we managed to work our way up three layers of cliffs, we still never found Continent Lake. After getting back to camp and pulling out the map I discovered that Continent Lake was still more than a mile away from the highest point we reached.
The flowers were out in full force this whole trip. Here's a nice patch while climbing the boulders.
After spending a few hours on these rocks and not finding the lake I was ready for my favorite backpacking activity - napping!
So we headed back to camp, but I never got to nap.
As a kid I clearly remember my dad laughing hysterically while reading Patrick F. McManus books. His books are collections of short stories about hunting, fishing and the outdoors. So I brought one along and after the kids heard me laughing earlier in the week, they insisted that I read out loud to them, so we could all enjoy. So I did. This became our after dinner entertainment every night this week.
After having spent the last two nights at Helen Lake and fighting the mosquitoes there, it was sure nice to be almost mosquito free at Ledge Lake.
Maybe it was the clean air, but I was again ready for bed before 9:00 PM.
Friday morning.
We all knew that our time was getting short, but we've been looking forward to this day because we get to go over Dead Horse Pass.
If you've been following along you'll know that Dead Horse is the second mountain pass for us to cross this week. As with Rocky Sea Pass, we planned our campsite so we could get up and over each pass early in the morning, to hopefully avoid any potential lightning storms, which usually come in the early afternoon.
After leaving Ledge Lake there was a short, fairly steep climb in the trees. After coming out of the trees we were at the top of the basin and it's so wide open it creates beautiful views out of other wise be unremarkable landscape.
I have to admit how much I enjoyed the scenery during the approach to Dead Horse. Wow! It's like at the creation the earth was purposefully stairstepped here to make this approach easy. It's flat hiking for a little while and then you step up to the next level and repeat.

Then we started climbing. This is a well marked trail without any snow, but these are mild to moderately steep switch backs.
Roman, who lead the way all week long, encouraged us through this rocky stretch. His enthusiasm provided a good teaching moment about hiking. I told him that when climbing switch backs through rocks to wait at each bend for people below to catch up so he wasn't on an above switch back knocking down rocks. Good manners, even in the backcountry, are mandatory.
Then we made the top. Fortunately, the group that was at the top descended as soon as we got there. So for about five minutes we had 11,500 of elevation and views to ourselves.

I have to admit this was a life moment for me. The climb up, the wind on top, the views and being with my kids. It gets me a little emotional, even now thinking back on it.
To descend you actually go on the Rock Creek Basin side around the rock here and then switch backs start down into the West Fork Black's Fork Drainage.
If there is one place you want to be careful - this is it. The trail is still well marked but these switch backs, with occasional patches of snow along the path were far more sketchy than anything we've done all week.

The pass and lake namesake?
Then when you do get to the bottom you're rewarded with more views, flowers, trees and the beautiful Dead Horse Lake.
For the above reasons, it would have been very tempting to camp here, but there were already a few tents around the lake and we knew every mile he hiked today was one less that we had to hike tomorrow on our way out. So we continued until we all felt it was time to take off the packs.
After coming over Dead Horse Pass we hiked about four more miles down the West Fork Black Fork drainage. This stretch of the hike took us back into the pine trees - which I really enjoy, but others don't because it takes away any views.
We ended up stopping around 2:00 in the afternoon on Friday in an open field near the stream running down the drainage. We had been looking for a good camping spot for a little while with no success. For a good camp spot I need flat, has shade and is within a reasonable walk to water. After lots of unacceptable spots we settled on this one.
At first glance you'd say it doesn't have any of the three requirements - and you'd be right. However, it was flat enough, when looking at this image there is a nice grove of trees to the left with plenty spots to sit and get out of the sun. Plus, the stream is less than a hundred yards to the left.
Here's the stream near out camp site looking up the drainage.
Me and my feet enjoying a little soak.
There wasn't anything in the area that was demanding to be explored and it was the end of the week so we spent the afternoon reading and being lazy around camp.
Then Saturday came. We had eight to ten miles ahead of us and it was the last day. My feelings were mixed. After six days in the wild I'm definitely ready to get back to modern life, but I'm also torn because I know I won't be back in the Uintas until next summer - and I really love it up here.
So after packing up camp we got back on the trail heading towards the beautiful meadows of Buck's Pasture.
Here's the stream near Buck's Pasture.
It was in this area that we started seeing people. Mostly fisherman along the stream pulling out little trout. As we walked by we were able to engage a few in conversation.
I really enjoy meeting people in the mountains. I've never had a bad experience. People are kind, helpful and friendly. It's like humanity returns to people once we're away from modern life. Saying hi, talking about experiences, offering help, etc, etc. The same kind of conversations would never happen in the grocery store. It reminds me that people are innately good and nice.
We had a pick up appointment at 3:00 at the river crossing past the bottom of the drainage, so on we trudged.
After reaching the bottom of the drainage, we joined a dirt road that would take us to our meeting spot.
Here we are hiking through a flock of sheep.
This was a wonderful trip!! I highly recommend taking a week (or more!) and enjoying this beautiful stretch of the Uintas.