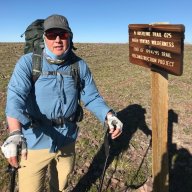 The mountains are calling and I must go
.
Joined

Mar 31, 2013
Messages

969
Trip Reports

23
Likes

1,111
The funny part, actually, is that I put together a little
writeup
on my blog a while back, because a lot of IRL people ask me the same questions on the UHT and now I have a place to direct them.
Thanks
@LarryBoy
I'm planning on doing the Leidy to Mirror Lake section next summer, solo if I can convince my wife that I won't die.
So I appreciate your blog post - it gave a few things to consider I hadn't previously.