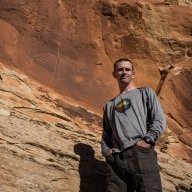 Wildness is a necessity- John Muir
Joined

Jan 4, 2014
Messages

1,099
When if came to working this winter, Organ Pipe Cactus NM was not my first choice. I was most excited for the opportunity to apply for positions in Big Bend NP. It's a place I had always heard great things about and seemed right up my alley. It is also the type of place that is out of the way enough that I would likely not visit it any time soon. So I was actually pretty crestfallen when that fell through.
Alas, some good fortune did happen! My friends Daniel and Whitney from Katmai had worked things out to volunteer at Big Bend for a few months this winter and were completely open to visitors. With me having to move south anyways, I decided it was reasonable to detour to Texas before swinging to Arizona.
Big Bend completely lived up to my expectations and a good ways beyond. While it has a few of those "grand" spots that everyone loves in the parks, it's a place of much more subtle beauty. The Chihuahuan Desert varies easily across topography and is vibrant with wildlife. Open vistas abound. Roads and trails aren't your nice park service fare, you feel you have to work in Big Bend. Nearly a week was enough to see a lot, but barely scratches the surface. Like any good park experience.
No not bore you with too many details I'll condense this a lot.
Day 1: The Window Trail in the Chisos Mountains.
This was a nice jaunt down from the basin of the Chisos (yeah, a big basin in a mountain range, I didn't expect it) down to a crack that spills off into the valleys below. It was not only a great way to see towerin mountain cliffs but also a great spot to see a riparian environment in the desert. Life was lush and nice here, not quite so pokey as everywhere else. After the Window, I bumped up another trail to get above the crack and get the full view.
Day 2: Boquillas Canyon and Boquillas, Mexico, then some Hot Springs
On the second day of my trip, we went down to the US/MX border to check out an interesting situation of border politics. Before 9/11 there were multiple communities that fairly benignly crossed the border and thrived off the tourist industry. Then the border closed and most of these communities disappeared. With a lot of work, one crossing has opened up for tourists to visit the small town of Boquillas. It probably helps that you have to cross in a boat and are multiple hours from any large populace center. This is a tourist spot, pure and simple. We visited a large canyon beforehand to properly time some lunchtime tacos and afterward went to some hot springs back in the park. I didn't picture the springs because they were a funhouse with the Thanksgiving crowds, but I highly recommend sitting in them for a while. Perfect temps.
Day 3: Mariscal Mountains and Mine
On my third day, we ventured onto the dirt roads of the park and visited the Mariscal Mountain Range south of the Chisos. We didn't really plan this day well so our hike ended up simply being a pleasant stroll in the desert looking at all the blooming Living Rock Cacti. These things are neat, definitely one of the coolest plants I've ever seen. After our fill of flower gawking and sweating our butts off, we went north to the Mariscal Mine, a historic quicksilver, mine. This may be one of the coolest modern historic structures I've seen in the States. It was very ominous, and large, like a movie villain hangout. I'm very happy we got out to it.
Day 4: Santa Elena Canyon
Our fourth day was a mellow day. After Daniel and Whitney went for a trail run we bumped down the the terminus of Santa Elena Canyon. Very big, definitely can see how it was in a park. It was also crawling with people. They were simply everywhere. They made it fun when a rattlesnake decided to hide out in a crevice right by the trail.
Day 5: Emory Peak and the Chisos Rim
Daniel and Whitney had to work on my fifth visiting day, so I decided to go overboard and put in a lot of miles in the Chisos. How could I visit for so long and not hike to the top of the high point in the park: Emory Peak? So I did that, sorta. The last pitch was doable but more than I felt would yield better views. Someday Ill go up rock pitches willy nilly. The views were pretty spectacular from the bub peak nearby. From there I decided to go to the South Rim of the range. On this stretch I had a bear encounter that was far more threatening than anything I had in Katmai. A black bear sow scratched a tree and hissed at me. My nice, "not bothering you" talk turned pretty indignant. But my bear skills worked, she simply moved on with her babes when she realized she was the big girl. The South Rim was neat, as if the Grand Canyon had no canyon on the other side. Big views. Looping around I made it back to the basin just in time to see if sunlight played well off the rocks.
Day 6: Ernst Tinaja and Hot Springs Canyon Overlook
Day 6, my final day, Thanksgiving. We had big dinner plans for the folks not hanging out with family tonight so I didn't want to do anything too crazy, yet had to still see some of the park. I drove out to a spot I'd seen neat pictures of, the Ernst Tinaja. Apparently down south, potholes are called tinajas. I like it more honestly. This one was especially cool because it sat in a canyon that had been worked on by geological forces very well. All I will say is "LINES!" After wandering in that canyon a bit I bumped around to the eastern end of Hot Springs Canyon to take one final look at the Rio Grande, the border river. Pretty neat that this natural feature separates two countries.
More glorious times in national parks, our lands that we decide the federal government can manage. Love em and I'll get back to Big Bend one day. There's still a lot more there to see.