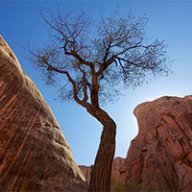 Joined

Aug 9, 2007
Messages

12,940
This is pretty interesting. They went out looking to document climate change on the glaciers and found this.
Students from Central Wyoming College were buoyed by their finds on the 25-mile trek from a trailhead outside Dubois to the edge of Wyoming's biggest glaciers. But then, at the top of the state, where harsh winds blow away deep snow and temperatures are often frigid, they discovered something none of them expected: a bison jump.

More specifically, the highest elevation bison jump ever recorded in North America.​
And this...
"Another student found a cairn and then found another and another and followed it until Todd and the other student hit a precipice and that's when it hit Todd that it was something way more than they originally thought," Robins said. "They went down into the possible butchering area and saw all the flakes and Todd realized it was a bison jump."



Lichen growth on the cairns – or rock towers – helped prove they were prehistoric.



The line of stacked cairns was about a mile long, and was dotted with hunting blinds where early people hid and pushed the animals forward, Guenther said.

​
Read more:
http://trib.com/lifestyles/recreati...cle_e4946a0e-b5ab-5496-bf1b-8b480276fbaf.html