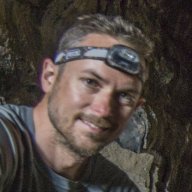 Joined

Jun 18, 2015
Messages

102
In August 2015 I hiked about 95 miles during an 8 day solo journey through the High Uintas Wilderness in Utah. I was wanting to hike the Highline trail but decided just to do a loop type hike instead due to logistics. It was really tough finding good east-west routes besides the main highline trail that I could make a loop pout of and not repeat the same ground.
Here's the route I ended up hiking:
Day 1 - East Fork Black's Fork trailhead to EFBF drainage - 8.5 miles
Day 2 - EFBF drainage to Yellowstone Creek, Below Anderson Pass - 11.1 miles
Day 3 - Yellowstone Creek to Milk Lake, including summit of King's Peak - 10.3 miles
Day 4 - Milk Lake to Bear Lake - 12.9 miles
Day 5 - Bear Lake to Lower Red Castle Lake - 11.6 miles
Day 6 - "Off Day"... Lower Red Castle Lake to Red Castle Pass and back to Lower Red Castle Lake - 8+ miles
Day 7 - Lower Red Castle Lake to Lambert Lake - 13.1 miles
Day 8 - Lambert Lake to EFBF trailhead - 18.6 miles
The weather was on and off threats of rain for the first few days but never got more than a sprinkle during the day. Got some high winds and hail one morning while camping at Milk Lake though before the sun came up. The second half of the trip the weather was great, barely a cloud in the sky. However, smoke from the forest fires out west started to obscure long distance views and ruin pictures by the 7th and 8th days.
I saw a couple of elk but no moose. There were herds of sheep in both upper Smith's Fork Basin and at Lower Red Castle Lake. I brought my hammock and was able to find trees to hang from every night without an issue. Stars were super bright the first half of the trip during the new moon.
I climbed King's Peak on day 3 along with about 50 other people. It was a Saturday so I guess that's why there was such a crowd up there. I was not expecting to see so many people out here. Still, the views were awesome.
Highlights of the trip for me were King's Peak, Red Castle and Red Knob Pass.
If you are interested in the details of the hike, I have an 11,000+ word trip report documenting the trip here:
http://metalbackpacker.com/high-uintas-wilderness-utah-8-day-hike-aug-2015/
If you just want to see the pictures and highlights of the trip, check out the video: