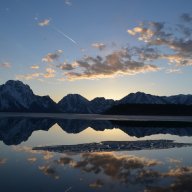 Joined

Jul 31, 2014
Messages

4
Hello,
I've looked through some previous threads about this subject, but i figured i'd ask anyways to see if anyone had some new suggestions.

Planning on heading up to the High Uintas on a Thursday sometime soon for some car camping with my lady and the dog and I'm hoping someone can offer some suggestions for where to go. We were spoiled by the Gros Ventre in WY and i'm looking "optimistically" for a place similar to that. I have 4x4 truck and i don't mind traveling a little off the beaten path.

Perfect place:

1. Somewhere beautiful we can camp with fire (no established campgrounds please)
2. Close to some cool places to hike.
3. Not a lot of people or bugs would be great!
4. Close to some water to fish/swim would be clutch as well.

I know this is really specific and probably unrealistic but any help would be greatly appreciated! I'm planning on asking a VERY BIG question if that helps explain why i'm trying to make this perfect. Thank you in advance!