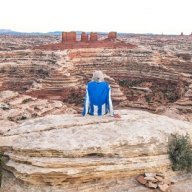 Joined

May 18, 2012
Messages

295
Ever since becoming captivated by Antelope and Buckskin, then discovering Utah had many such slots after buying a Kelsey book nearly 20 years ago, High Spur was in my mind as a particularly nice one. (Funny how I now meet a new internet generation of canyoneers who have not had any need for a Kelsey book). It was described as a hiking canyon. I guess perhaps it might be if you are confident in your down climbing abilities. But as the final 80ft rap cannot be downclimbed you'd have to double back and exit earlier if you wanted to avoid any rappels.
Anyway I was due to do the canyon 3 years ago but rain was forecast So it didn't happen.
This time my plans also looked in doubt when my original planned companion had to drop out, but Anthony D - who was due to join us anyway - kept to his word and kindly guaranteed the weekend where he generously took the lead role for 4 less experienced people. He invited 3 other people who proved good company too, with Robin picking a fine canyon for her first. The plus side of easier shorter canyons is it gives extra time for photos, and everyone was very easy-going about us taking our time, so hopefully it paid off with some nice photos.
I'm afraid when I uploaded them they all came out in a random jumbled order below, not the order I uploaded.
(As the rangers' description a week before was "frigid, stinky swimmers with dead things in", the DSLR had its first outing in a canyoneeringusa keg, but there was only one swimmer)
Camping at motel 6, a clear starry sky and dry forecast augured well - only for us to wake up to distant dark clouds and lightning. We headed to High Spur trying to remain optimistic but the storms remained and it was cold - not ideal when we had been warned of cold water in the canyon.
Reluctantly we decided to bail out and drive to Blarney and Leprechaun - via a yet-to-be-earned Stan's burger and shake! - to see conditions there. Fortunately the skies looked safer so we did Blarney top down then still had time for leprechaun bottom up - each having fine sections of canyon.
(One suggestion when looking at the photos below - I noticed the verticals don't look so good when a whole photo doesn't fit on the computer screen & you have to scroll down to see one photo.. Better to shrink the page or zoom out & see a whole photo in one go, even if it's smaller)
After a second enjoyable camp fire night of stories and laughs, the next morning I woke up to the pink sunrise below - so you pretty much know the day is going to be good.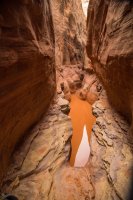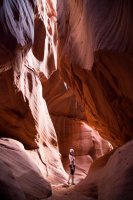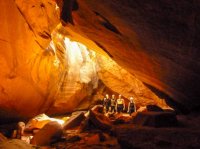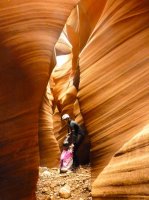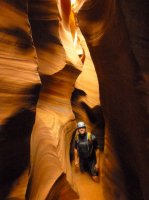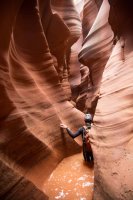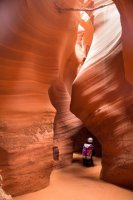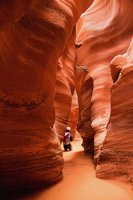 Attached Images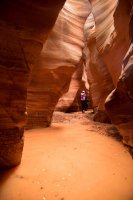 Last edited: