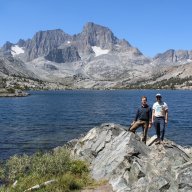 Joined

Sep 8, 2023
Messages

2
Hello fellow adventurers.

In 2 weeks, 9/21 I'm going to hike the North Lake to South Lake Loop (High Sierra) near Bishop, CA. I've got all my campsites scoped out and feel good about the mileage. I have room for a layover day in a cool spot, no breaking camp just cross country exploring.

I'm having difficulty deciding between these three epic areas:
- Humphreys Basin
- Wanda Lake Area
- Dusy Basin

I've been doing lots of research and am pretty confident that I can miss out on Humphreys Basin exploration this trip. But I can't decide between Wanda Lake area and Dusy Basin, and I don't want to spoil my trip by looking at tons of pictures.

Could someone please provide some guidance as to which location is going to provide the most rewarding cross country exploration?

Thank you very much!