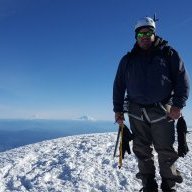 Joined

Jul 18, 2016
Messages

47
Finally knocked out a loop I have wanted to do for some time. My first trip report, so bear with me ...
I had planned to get a few miles in on Wednesday evening, but work preempted my departure. So I set out fairly early on Thursday. I thought about modifying my plans, but kept with the original loop, even though it would mean a few more miles on day 2 than I had originally planned -- my original plan was to camp at Lake Hessie on Wed., Painters Basin on Thurs, and Smiths Fork on Friday.
I set out from China Meadows at about 11:00 am on Thursday, Aug. 31 in an off and on drizzle. It had clearly been raining quite a bit; after about a third of a mile, I returned to the truck to swap out my trail runners for waterproof hiking shoes. Lots of mud bogs along the trail. The trail ascends very gently for a few miles to the junction where one can continue to Red Castle or over the hill to Henry's Fork Basin via Lake Hessie. At that point, the trail starts to climb a bit more steeply for a few miles up to a beautiful broad mountain ridge.
I hiked along the ridge, slowly climbing. Beautiful country.
I finally got to the top where I could see down in to Henry's Fork Basin. One of my favorite places, despite all of the people that flock there to climb Kings Peak.
I had never approached the basin from this side, so it was a treat to explore it.

The weather had cleared up a bit, finally, leaving better views of where I was headed. The trail was quite soggy still, and the mud holes were extensive. I had made the right footwear choice, as I was able to tippy toe through most of the wet spots. Well, until the very last one, which proved a bit too deep for my shoes.
I set up camp just after joining the Henry's Fork trail and enjoyed the moon over King's Peak.

Stats for day 1: 13.5 miles, 2450 ft elevation gain. Plenty of mud, a fair amount of rain, but no people seen until I reached the Henry's Fork trail.
After a cool night (according to Snotel, it reached 35* at the nearest site), I emerged from the condensation-soaked tent to find a pretty good sheet of ice on the outer fly. This was the first time I have used this tent (Big Agnes Fly Creek UL2) in these types of conditions. My bag was pretty wet in the morning. Circumstances were admittedly prime for condensation (wet ground, low temps), but I was still quite surprised by the amount of water -- water dripping from the fly had saturated the mesh, which would rain down on me whenever the tent moved, or sometimes even when it did not move! I've camped at this exact spot in similar conditions with my other tent (much bigger tent, but with 2 people in it) and had no issues whatsoever. Oh well.
Hit the trail at about 8:30 after realizing the sun wasn't going to reach me and dry stuff out for a while. Soon made Gunsight Pass, looking down into Painter's Basin.
At this point, I had to decide whether to take the unofficial high route, leaving the main trail and skirting the ridge over to Anderson Pass at the base of King's Peak (which I've done twice before, albeit without a heavy pack), or to descend down into Painter's Basin and take the long way, losing hard-gained elevation. I decided that the scrambling on the unofficial route might not be best done wearing a loaded pack, so I headed down into the basin. In my head, it was only supposed to be an elevation loss of a few hundred feet, but it proved to be much more than that. In any event, I had never been to the floor of Painter's Basin, so that was new. But, I regretted my decision while climbing up to Anderson Pass at 12,800 feet (the high point of my route). I had planned to climb Kings Peak, but the long cut through the basin left me feeling that I should push onward.
I don't know what the basin looking West from Anderson Pass is called (Yellowstone?), but it was impressive.
The trail slowly descends across the face of the hill (taking off to the right side of this picture) to the valley, where it crosses the middle of the basin. The vastness of the basin, and how small you feel in it, is an awesome feeling. The trail descends slowly into the trees in the distance, where it becomes remarkably lush and green. These trees are healthy and verdant. I don't know why I didn't take a picture, but I wanted to stop and camp there. But, I had daylight left to burn and wanted to make for a short day 3, so I eventually left the Highline trail and climbed up over Smith's Fork Pass (for my third pass of the day). I lost the trail at the top of the pass, in part because I headed toward a rocky outcrop that looked exactly like a person standing there (who, I assumed, was on the trail). It wasn't a person, and it wasn't a trail, so I rock hopped down to the lake, eventually finding the trail and a good camping spot looking at the 'back' of the Red Castle. Arriving with time to spare to dry out my tent and sleeping bag before the sun ducked behind the mountain.
Stats for the day: 15 miles, 3550 ft elevation gain.
Another cool and humid night, with another bout of condensation. I opened up the top of the rain fly at about 3:00, and that at least seemed to hold it at bay. Sleeping bag wasn't quite as wet as the day before, but ... A bit of ice on the tent and plenty of frost on the grass.
I got on the trail pretty early for the fast walk out -- I knew it was all down hill. However, the Red Castle did not disappoint!

My first time on the Red Castle trail. I was surprised at how flat it really was -- I couldn't tell I was walking down hill much of the time. This would be a great trail for my older kids, who have never done 10 miles before, to stretch their legs. Maybe next time. Also, I expected it to be crowded, being the Saturday of Labor Day weekend and all, but wow, there was a line of people coming up the trail. I speed walked out and made it to the truck around 11:00.
Total stats for the day: 11.8 miles and a measly 250 ft elevation gain.

It was my first solo trip in a few years, and I was glad for the opportunity to have taken it.
Last edited: