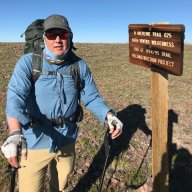 The mountains are calling and I must go
Joined

Mar 31, 2013
Messages

1,024
The week of Memorial Day I'm leading a group on the White Rim Trail.

Right now were a group of 11 and we're going to take our time and do it
over six days. We've got one support vehicle with a second possible if needed.

If I plan on 1 gallon of water per person per day that comes to 66 gallons of water.
That seems like 66 gallon jugs could fill up the back of a full size truck by itself.

I would greatly appreciate any advice or experience you can give me on
handling this issue.

In reality a gallon of water a day per person is probably more than will actually
be used, but do I dare take less with no other sources available?

Thanks.