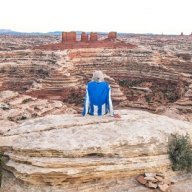 Joined

May 18, 2012
Messages

295
Wondered if anyone could advise me on which GPS to go for to help with navigation off trail in the South West as although I've used a GPS once I've never owned one or downloaded a map on to one, so I'm pretty ignorant about them

I was thinking the Garmin Oregon 650. From what I can make out I would then have to pay extra separately for any 1:24,000 topo maps as I don't think you can get them bundles with the GPS even in an extra reduced total cost package deal. (I think the 650t comes with a 1:100,000 USA map)

The only other slight complication is that I live in the UK althougjh I would not need it for use in Europe. I guess I'm ok to buy any Oregon 650 here and buy the U.S. maps for it, or I may be in the US this year, so would I be better off buying it it there.