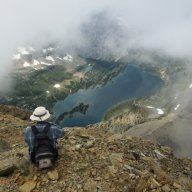 Joined

Feb 7, 2015
Messages

530
Hells Canyon is the deepest canyon in North America at 7,900 feet deep and 10 miles wide. It earns this designation due to the proximity of the Seven Devil Mountains on its eastern edge. In 5.5 air miles it drops from 9,200 ft. to 1,400 ft. It isn't a traditional "canyon" like the Grand but it isn't a river valley either.
Our base was Riggins, Idaho. Our outfitter, River Adventures, gave us the option to drive to the start point or take their shuttle. Along with 8 others we took the shuttle the 45 miles to Pittsburgh Landing. This worked well enough if you discount the social dynamic of one alfa male want-to-be who was completely shot down when the true Alfa male entered the shuttle along the way.......but I digress. fyi--I am the type of person who quietly sits and looks out the window, so watching these two was uncomfortable.
Maybe the driver would have stopped if I had asked her to, but that seemed too forward....ha. Instead I tried to grab a shot as we dropped down from Pittsburg Pass
Our steed
The second I sat down on the boat I was heart struck, mad, and confused. The boat was wrapped in plastic windows. The view was anything but natural or 20/20. Everything in me went "what the f...!" I looked around and I noticed someone sitting behind the Captain. Nobody else was going there so back I went. There was a bench that held 4 people. Completely in the open. "Damn, ya!!!! My spot."
My view forward might not have been unobstructed but I could see up and around and back 270+ degrees.
How does one take photos on a bucking jet boat going up the Snake River? I decided to keep my shutter speed as fast as the lighting would allow and hope for the best. I took so many photos I had to look silly to those around me. Here I was riding a boat on a bucking river snapping shot after shot. 190 in all. You want to see what the 33 miles of river we traveled looked like? I documented it! As far as I knew they were all going to be blurry. But I enjoyed the experience of taking the pictures. I might have had 10 photos that I threw out because of movement.
I hope you enjoy my documentation of Hells Canyon.
Side streams were hard to get because they came up so fast.
Now......we didn't travel like a bat out of hell a lot. The Captain slowed down to tell stories and to not make wakes for people fishing and boating. It was a 6 hour day on the water.
Your eyes are not mistaken. The hillsides are Blue.
We stopped at the Kirkwood Ranch. Hells Canyon has a history of sheep. A bit of mining.
What was making the hillsides blue. It smelled (emotionally) like something brought into the canyon during the sheep days that went.....a bit crazy and out of control.
They had old equipment on display.
Our Captain was third(?) generation in Hells Canyon. He had a lot of stories about his Great Grandparents who lived in there. Hey....that is our Alfa male on the shuttle with the walking stick.
I included this photo because "why did Grace haul paint down here just to write on a rock?" Well.....she didn't. When the volcano blew that created Crater Lake it left feet of ash, etc. You add water to this and you have a paint equivalent. The Captain showed out the layer of this ash at certain places.
See the hikers? I think they were rafters on a break. There is a trail that follows the river on both the Idaho and the Oregon side.
This is Suicide Point. A very hard section of trail to engineer. A story I thought I heard the Captain tell was that building the trail was one thing but getting the horses to use it was another. One horse was causing such a ruckus that in order to save the entire pack train the scared horse had to be cut loose and it fell to the river below.
Always watchful for wildlife
This was a "station" where everyone brought their sheep to be sheered.
Bald Eagle
I think the story I sort of heard being told was Chinese mined Alum.....pickles(?).
Occasionally there were huge rocks in the river. At one spot he said that the water around the rock was 70 feet deep.
This was a River Adventure boat on a Sturgeon fishing trip. Seeing that this guy had one on the line we hovered while he fought it and brought it in. Sturgeon get up to 8 feet long and hundreds of pounds.
This is Little Granite Creek. The "bottom" of Hells Canyon. It drains the Seven Devil Mountain area.
Mountain Goat
The Captain stopped and said. "I need to ask you to put on your Personal Flotation Devices as we have a series of rapids that are a lot me intense than what we have seen so far." Looking up river I could make out the wall of water that we had to plow up. They noticeably gave a waterfall appearance. The Captains advice was to hang on with both hands. So here I was sitting on the tail of the boat trying to keep my camera dry and hanging on with both hands. I of course couldn't capture the experience. I PRAY that I never forget what I saw riding up those rapids. Going upstream we didn't have a lot of speed as the boat was fighting the water so it seemed in slow motion. I saw waves AND HOLES, 20-30-? feet high/deep. It was otherworldly. It was freaking incredible. At the top of the rapid I could look DOWN to where we had come from.
At one spot we saw three kayaks. One of them was empty. Upstream we saw one man walking the shoreline back to his friends and kayak. Must have gotten thrown.
We arrived at Hells Canyon Dam. Our turn around point.
He dropped us off at the visitors center for our picnic lunch. It rained on us a bit as we mingled with rafters who were preparing to enter the river.
When we reloaded the boat I was drying off my seat. The couple who had sat with me on the bench chose to sit up front. The Captain said "there is room up here for you." For a split second I thought he was going to force me to sit up there. I said "I am fine, I love it back here." So I had the entire bench to myself as we set off for the return trip. Maybe if it had started to down pour I might have moved but.......I was loving it Out in the open. I Did have more trouble with spray on the trip out. Maybe it was the wind or how the jets sit on the water going downstream.....but I was having to protect and wipe off my camera a lot on the return trip. Still.......loved it.
We went up and got a closer look at the dam.
I could sense that the Captain was a bit more intense. He mumbled something about the "river being higher than when we came in." He stopped to "read" how to best tackle this rapid. One of two things happened. We hit a rock...........I considered this unlikely so in the moment I didn't freak out. Most probably we bucked up and SLAPPED down upon a wave. Whatever......it was like dropping onto an unforgiving surface. There were three coolers behind the Captain. They had the big one strapped down but the other two went sliding.........both coming at me sitting on my bench. So........here is the picture......I am hunched over my camera trying to keep it dry-ish....I am hanging on with two hands.....I stop the cooler on the right with my right foot.....I steady the cooler on my left with my left hand......The people in front of me are looking on with concern and smiles......I am loving it.
I was determined to attempt to get some shots of these rapids.
Trying to capture the crazy waters of the rough stretches.
Back in safer waters we were dropped off in Oregon for a short walk up to Eagles Nest. A section of trail clawed out of the rock.
I have not mentioned Kurt! There he is. I mentioned to him three times about the back bench but he never came back. At the dam he gave me a lame excuse so I gave up. I had done my part to get him out of the plastic enclosed boat.
Our Jet Boat
I jacked up the vibrance to show off the blues
Bighorn Sheep
I hope you enjoyed this look into Hells Canyon. We had booked a jet boat trip up the Salmon River into the Frank Church River of No Return Wilderness but it was canceled due to the river flow being too high. That was heart breaking but you can't fight the crazy spring runoff this year.