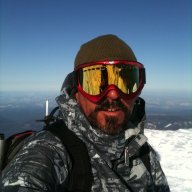 Joined

Mar 18, 2021
Messages

1
Hello!


Like many, I stumbled onto the site while researching and planning future trips. I found so many of your trip reports helpful to come up with ideas for future trips. You seem like a nice group of people and the site itself looks well organized and presented. I decided to join up to be a part of the community.

A little about me:

I am a lifelong outdoor enthusiast born and raised in Arizona. My hiking began early with a lot of time spent in the Grand Canyon back in the "good old days" before permits and lotteries. Since my teenage years and most of my adult life, I have resided in the Pacific Northwest; specifically Washington, Montana and Alaska. While not a die hard in any one recreation, I am into backpacking, day hiking, rafting, Kayaking and snowboarding including backcountry splitboarding. The snowboarding is perhaps the activity that I tend to be the most focussed on and especially the backcountry splitboarding in Alaska. While I love hiking and backpacking in the alpine environment of the Washington Cascades and Oregon Wallowas (Goat Rocks Wilderness and Eagle Cap Wilderness). there is a special place in my heart of the red rock of southern Utah and northern Arizona; especially Grand Canyon.

I look forward to reading more of the great trip reports you folks have been posting and will share a few of my own along the way. As a solo traveler, I am also hoping to maybe meet like minded folks to share some casual trips with down the road.