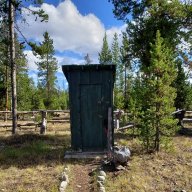 Joined

Feb 15, 2020
Messages

274
I've been reading this board for years and posting for a few weeks, but I thought I'd post an Introduction to give some background on myself. What initially drew me to the site was the detailed information on the GYE and Wind River range, but I've also enjoyed the more general insights on backcountry recreation to be found here.

I currently live in CO with my wife and two young sons. Family and work obligations are at the forefront of my life these days, but I'm fortunate to have a supportive family and employer that allow me to get in a number of good backcountry trips every year. My wife isn't big on backpacking, but loves getting outdoors - we get up to Alaska semi-regularly for fishing and spend at least 3-4 long weekends a year in the GYE as a family.

I enjoy solo trips, but sometimes it's nice to have a partner/group - I also think it's important for learning new skills and gaining perspective. I hope to find others on this board to enjoy the backcountry with, especially in the GYE, Winds, or anywhere in CO. (This board has also inspired me to look more closely at the Uinta range, so a big trip there might be in the cards next year.)

At some point in the future, I'll try to post some "archival" reports from my past trips.
Last edited: