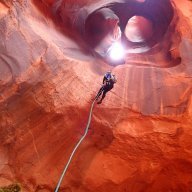 Joined

Jul 21, 2014
Messages

9
I've been lurking here for quite awhile and thought it was well past time to introduce myself. I live in Phoenix Arizona and spend a whole bunch of my time in the outdoors. I regularly go on some fairly big solo backpacking trips, including a PCT hike 17 years ago. I also spend a lot of my time canyoneering, and over the past couple of years have gotten into packrafting as well. I'm going to make an effort to post on the site, since I always enjoy looking through people's trip reports, a few of which have directly inspired trips I've taken. So I'd like to contribute more rather than leech.
One of the things I like to do is make videos of the trips I do. Here's a few of my favorite videos from the last few years, and there are tons more on my youtube channel.
Packrafting the Upper Salt River
Technical Canyoneering the Silver Grotto of Grand Canyon
Solo Backpacking and Packrafting Denali National Park
Backpacking Parunuweap Canyon near Zion National Park
Packrafting the Escalante River
Backpacking/NonTech Canyoneering Tonto Creek through the Hellsgate Wilderness
Packrafting Fossil Creek
Technical Canyoneering Tatahatso Wash in Grand Canyon
Backpacking Jasper Skyline and the Lake OHara Alpine Route in Canadian Rockies with my wife (caution this one is long as hell)
Looking forward to joining the discussion!