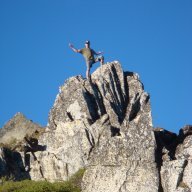 Joined

Apr 22, 2014
Messages

11
Hey there everyone, i found this awesome site while doing some research for the possibilities of some much needed outdoor adventures in and around Utah. i was impressed with the easy user friendly layout, and extensive trip reports with photos and maps etc. this is my first time ever joining an online community and am excited to be able to contribute to and share the resources of you like minded nature lovers.
a little about me:
originally from hawaii (oahu) i developed an affinity for nature at a young age through the oceans and beaches through surfing. Theres not many opportunities to really "get away" on oahu, being the most populated island and really is a sprawling metropolis with limited, if any, wilderness areas.
i moved to southern oregon about 10 years ago for college and was instantly drawn to the mountains rivers and lakes waiting to be explored. my backpacking experience is limited, but i am willing and eager to get out there and do much much more.
my girlfriend and I moved to Park City for the winter to do some snowboarding and a change of lifestyle from southern Oregon. I thought we moved here for the mountains and riding in the wonderful wasatch range, but am realizing now that the real reason is the boundless outdoor opportunity that Utah and beyond has presented as the season has come to a close and the weather is getting warmer.
We have already made a few camping trips down to the desert in between storms, and were instantly hooked to the beauty and serenity of the desert below. we have only been to bryce and zion thus far, but they were both amazingly uncrowded considering it got down to single digits at bryce and was cold and off season for zion. i know that there are much more than just the national parks that acted like the gateway desert drug for us. i have also been down to the moab area and did some BLM camping recently and did some very brief arches and canyonlands exploring.
so thats the main reason i joined here, to tap the resources and tickle the brains of you guys, as well to reciprocate and post my own trip reports and add to the catalogue of destinations here on backcountrypost.com.
im trying to do a backpacking and camping adventure in the desert in the upcoming weeks, but know this noob forum is not the place for asking trip advice, so i will post something soon if anyone would be so kind to chime in
thanks for reading,