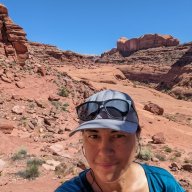 Joined

Jan 11, 2018
Messages

393
SAR does not usually bill people anyway...if they do they do not usually expect payment. There has been talk of charging though with the onslot of dumb people going where the shouldnt be or umprepared
This article
is a few years old (2015), but discusses places where they tend to charge. Note Wayne and Grand counties (UT) are on that list.
These are places that draw tons of visitors and have small tax bases to cover the costs of rescues. Two Utah counties, Wayne and Grand, consistently charge for SAR. In Grand County, home to Moab, Arches National Park, Canyonlands National Park, and a lot more public land, the local SAR team claims to be the busiest in Utah, with around 100 cases a year. For a county of approximately 9,500 tax-paying residents, that's a big financial burden.

County SAR commander Jim Webster

says his team spends about $200,000 a year. "We had to start charging because it was so expensive to conduct these operations in our county," he says, noting that most people who need rescuing are not locals and that county residents don't get billed. Last year, the county billed for 37 out of 111 total missions and pulled in more than $15,000 in cost recovery fees.
Hence I'm paranoid, so I carry GEOS insurance and have a Reach membership for my alpine trips. I don't have a problem paying for insurance, but it would be nice to see local SAR getting reimbursed instead of just for-profit heli companies.