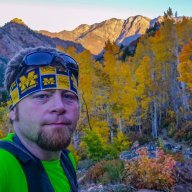 Joined

Mar 14, 2012
Messages

124
Got our passes several months ago and I should have been planning ahead more as to how to pack my camera. We are headed down Subway and Orderville, a trip we did 3 years ago. Water conditions could be different, but I remember having no choice but to swim in a couple of places. Has anyone been down there in the last couple of weeks? We head down on Thursday.

For backpacking I normally use my Lowerpro 750AW attached to my backpack, but since we'll only need daypacks, the backpack is way more than I need and a hassle.

I know I could buy a waterproof bag (it would collect dust after this trip), but wanted to see what other options you all use.

If I use a waterproof bag to stuff in my daypack I could use a caribiner to attach my camera to my daypack.

Thoughts?