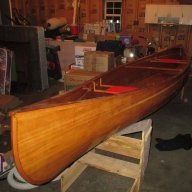 Joined

Jan 20, 2012
Messages

719
Since there are contests now for swag, I thought I'd throw up a post and at least have a chance to win (you mean I have a chance?!!) My pics were too big so the uploader didn't want to let me upload them, so so much for the 5 picture requirement...
Two weeks ago we took a drive up to the Hardware Ranch to take a look at the elk. It also was a good opportunity to take the new trip-mobile for a spin. Before we went, I talked to a brother that lives in Logan and he said that they'd been up the week before and had only seen spikes. Hopefully there'd be some bigger bulls there for us!
Driving up Blacksmith Fork Canyon was agony. I kept looking over at the Blacksmith Fork River and drooling about the fishy looking holes and pools. Man there's some good looking water there! We finally got to the ranch and there was a ton of people. Went inside to buy tickets for the wagon ride and realized they only take cash and checks- no cards. I had forgotten to grab some cash while running out the door, so no wagon rides for us.
We walked down closer and watched the elk for a while. There were 2 decent bulls we could see, several spikes, and a lot of cows. We watched them for a while, then headed back down the canyon to visit my brother.