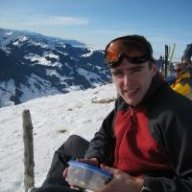 Joined

May 18, 2013
Messages

80
Click here to view on CalTopo
We drove down from SLC the day before our 4 day trip (Oct 24-27, 2015) was to start and camped at Burr Point. We did the loop counter-clockwise. That allowed us to leave a rope on Miner's Rappel and pick it up on the last day. The Miner's Rappel is somewhat awkward and I was glad we brought an ATC and harness. Kelsey says you can just do a body rappel; I would not recommend that as the rock is completely vertical.
Hanksville had gotten a lot of rain the week before and I was a little worried Happy Canyon Narrows would be impassable from what I had read in Steven Allen's, Canyoneering 2 book. There was only one 4 foot long pool where the water was to our waist, otherwise it was completely dry with a few short sections of calf high wading. I never saw anything in the narrows that could create a pool large enough to block passage. If water was actually running through the narrows, it could be impassable, but that is the case for any narrow canyon.
The only other challenge was getting into Sams Mesa Box Canyon from Twin Corral Flats. Kelsey's description of the descent makes it sound straight forward. However, the two trip reports I found online both said they failed to find the proper route (links below). I didn't having any issues finding the route into Sams Mesa, but it was more technical and exposed then I originally thought. There are sections of class 3 slick rock where a misstep would be deadly. Other groups may have had a hard time finding the route because Kelsey doesn't mention how hard and exposed some sections are.
WARNING: This is a technically easy route, but physically demanding. It should only be done in cool weather, as water could be an issue along this route.
Day 1 - Burr Point to middle of Happy Canyon, 8.5 hours moving time:
There was water all throughout Happy Canyon from the recent rains. That is not normal. Only obstacle was the Miner's Rappel.
Day 2 - Middle of Happy to Twin Corral Flats bench, 8 hours moving time:
There was water before we exited French Spring Canyon. The cairns which mark the trail to Twin Corral Flat only started near the end of the exit canyon, they are RUC and pretty obvious. There was no water on the bench.
Day 3 - Twin Corral Bench to Sams Mesa Canyon, 7 hours moving time:
It was a little challenging to find the top of the cattle trail that is the start of the route into Sams Mesa Canyon. You know you found it when you come across a foot high man made wall built to keep livestock from taking the wrong path. The cattle trail is easy to follow and leads you to a bench above the canyon floor. The class 3, with exposure, comes when you descend a side canyon into the bottom of Sams Mesa. There was water throughout the canyon.
Day 4 - Sams Mesa Canyon to Burr Point, 6.5 to Burr point, plus 2.5 hours to retrieve the rope at Miner's Rappel:
There is a little class 2 scrambling you need to do to get above the first dry fall.
Links to more route info:
Sams Mesa/Twin Corral Box Canyons Loop from Burr Point
Hiking Entry into Sam's Mesa Box Canyon, or We've been "Kelseyed"